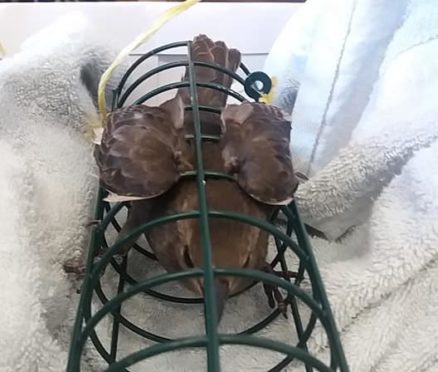 A greedy starling has been saved after getting stuck in a bird feeder.
The New Arc animal sanctuary got a call yesterday after a Peterhead woman found the creature in her bird feeder.
She brought the feeder to the centre and the bird was freed without injury.
New Arc founder Pauline Marley explained that gulls can be a cause for other animals getting into feeders.
She said: "The woman who brought this starling in was planning to buy sturdier bird feeders as she's from Peterhead and gulls have been known for taking the tops off of the feeders to get the fat balls and food.
"Tying the caps on can help from creatures getting in.
"We managed to untangle the starling today and the lady was able to take him home and release him back into the garden he came from.
"Starlings are cavity nesters and like wriggling into holes but this one seemed to have taken advantage of the access to food and just got wedged in – like a human getting snacks from a jar and getting their hand stuck."