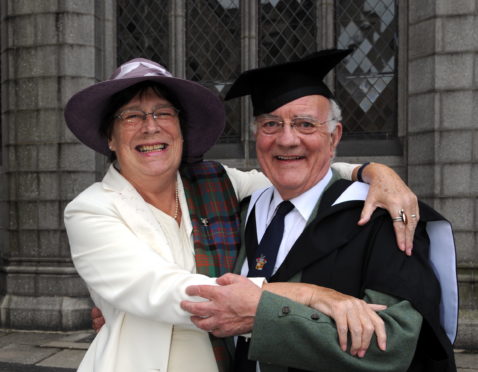 The first ever woman to teach at the now-closed Peterhead Prison, who witnessed Martin Luther King's seismic "I have a dream" speech, has died.
Bev Cochran – who was also an extra in the hit film Local Hero, which was filmed in Pennan – has died at the age of 80 following a battle with breast cancer.
Ms Cochran, who lived in Aboyne with husband Hugh, wrote a book about her experiences as a teacher in the jail, titled An Inside Job, where she taught some of the country's most infamous murderers and rapists between 1972-1977.
In the 1984 book she wrote: "The clanging of doors, the clip of metal tipped boots, the jangling of keys, the presence of dark uniformed caps and peaked caps come back to me as I write, but above all I remember the wind.
"Gusty, bitter, stinging, cold and penetrating, the wind is the one feature of life at Peterhead that no one ever forgets".
Born Sarah Beverly Jones in Liverpool, her father was in the police force and was responsible for securing the docks during the Second World War.
As a school pupil she was successful in her 11 plus exams and won a full arts scholarship to Merchant Taylor's school in Crosby, not far from the city.
She went on to study American literature at Manchester University and was one of just 5,500 women to graduate in the UK in 1960.
Her first marriage took her to America, after her husband – an academic – got a year-long posting to Chicago.
It was when she arrived in New York for the first time that she met activists making the trip to Washington DC to fight for equal rights for black people, where she witnessed King's iconic address at the Lincoln Memorial in 1963.
She returned to the UK and taught in a number of places, ranging from Hertfordshire and London.
Her work took her to Scotland, where she got a job teaching drama and creative learning at Falkirk Technical College, before she took the job at Peterhead Prison.
After she left the Blue Toon she also taught at Blairmore, a boarding school near Huntly.
It was also at this time that she met her second husband Hugh, who was the solicitor acting on behalf of the church she sold her house to.
The couple went on to have a son, Andrew.
In 1974 she turned her attentions to politics and stood as Labour candidate for East Aberdeenshire in the two general elections that took that place, but was unsuccessful.
Her interest in politics would continue into later life and as recently as 2012 she stood for election in the local government elections.
Son Andrew, who gave a eulogy at the his mum's funeral at St Thomas Church in the town last week, said: "She liked to be the life and soul of the party, cared a great deal about her friends, family and students and really wanted them to make the most of what they had.
"It was important for her to help those less fortunate and she did all she could for others.
"She liked to be centre stage and letting the world know what she thought, and she was also fiercely intelligent and a very analytical woman."