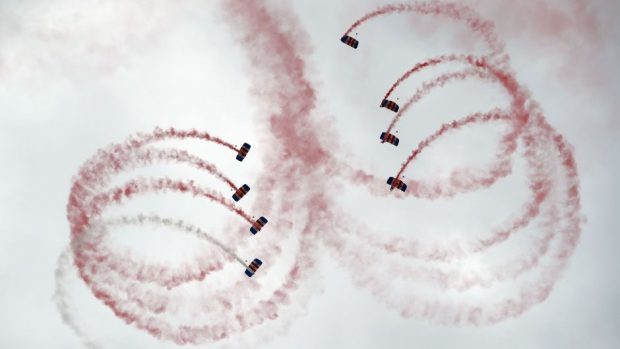 A famous UK parachute display team will be gliding into Peterhead to crown the Buchan Queen to kick off Scottish Week.
The RAF Falcons will be wowing the crowds at the Lido in the Blue Toon on July 20.
Organisers for the traditional week-long celebrations around the town announced on Facebook that the falcons would be performing.
They released a statement that reads: "The Falcons are the UK's premier military parachute display team, based at RAF Brize Norton, Oxfordshire.
"They display at venues all over Britain and Europe throughout the year.
"And this year they are parachuting onto the Links to crown our Buchan Queen.
"Join us at the Links from noon on July 20 where we will have entertainment, stalls, amusements, food and much more.
"The royal procession will be led by the Fraserburgh Royal British Legion Pipe Band."
The group will be unveiling more in the Scottish Week programme which goes on sale at the start of next week.
The falcons are preparing to make the sky above the town a colourful scene to behold.
Flight Lieutenant Mikaela Harrison, the officer commanding the team, said: "The RAF Falcons Parachute Display Team are looking forward to performing at Peterhead for the annual Scottish Week event.
"We hope to put on our fantastic aerial display for all of those attending.
"Our show is both unique and flexible and our highly skilled parachute jumping instructors will make a variety of movements across the skies of Peterhead in freefall using coloured smoke.
"Spectators will see our famous falcons' non-contact canopy stack and once the team have landed firmly on the ground, there will be an opportunity to meet the members. "