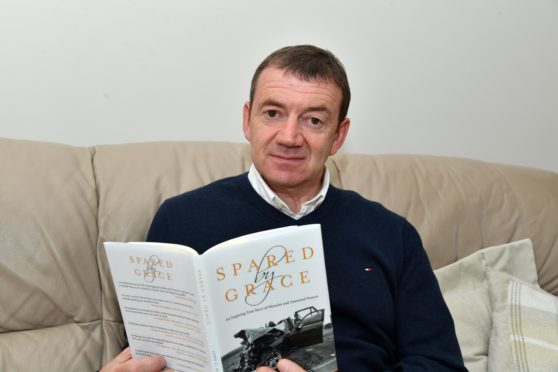 A north-east man who suffered horrific injuries in a crash has written a book about his recovery.
Peterhead man John Buchan barely escaped with his life following a crash near Boddam in 2014, where 66-year-old Cruden Bay man William Duthie was tragically killed.
The pair were involved in a head-on crash on the A90 Aberdeen to Dundee road, near Stirlinghill Quarry.
Mr Buchan, who was 48 at the time, was airlifted to Aberdeen Royal Infirmary after being pulled from the wreckage of his black BMW X1 with critical injuries.
He was found to have a fractured skull, brain injury, lacerated spleen, two lumber spine fractures, two collapsed lungs and extensive fractures to both legs and forearms.
On arrival to the hospital Mr Buchan's wife Frances and three children arrived to the hospital and were told by a doctor that he "wouldn't normally expect someone with these injuries to make it to hospital".
Mr Buchan said: "I spent 12 days in intensive care mostly in a coma, a month in ARI and four-and-a-half months in Ugie Hospital in Peterhead.
"The damage to me was extensive and it was just horrendous for my family, but I don't remember anything about the accident or the day at all until I woke in hospital almost two weeks later."
After three major operations, Mr Buchan was left with 65 pieces of metal holding him together.
As a Christian he and his family prayed for his recovery and now, five years down the line, he has made a remarkable recovery.
Mr Buchan, who suffers from just minor side effects, will now release his book, Spared by Grace, later this month.
He said: "I was asked to share my experience in church and people were amazed by the things I have been through which God has taken me through.
"They encouraged me to write a book and I wasn't sure I would ever finish it.
"Before the accident I had been a skipper for years and then got a job in Aberdeen working for the Scottish Seafood Association.
"I couldn't go back so I use my time to walk, swim and write."
Mr Buchan's book will be released on July 27 and be available in the usual shops.