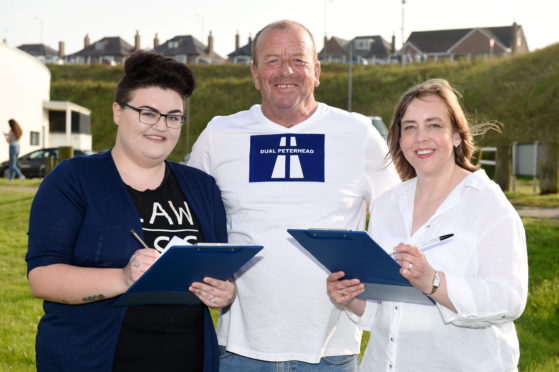 Campaigners who believe that a "dangerous" stretch of a north-east road needs to be transformed into a dual carriageway have launched a petition to garner local support.
The Dual Peterhead group, which formed last year, wants better connections between Peterhead and the AWPR road by dualling the A90 north of Ellon.
Driven by Peterhead Community Council, and supported by local councillors, the group believe that upgrading the A90 between the towns would improve the local economy, safety, tourism and connectivity.
With Peterhead busy with locals and visitors for Scottish Week, the group decided to launch their campaign and educate the crowd on their hopes.
Activist Lisa Buchan said: "We're here trying to get as much support for the dual carriageway campaign we have going.
"We're trying to show the need and public will for it.
"Within an hour, quite a few of our sheets were full."
In October, campaigners called for the transport chiefs to dual the route after figures showed the number of crashes on the A90 Aberdeen to Peterhead rose from 50 in 2016-17 to 63 in 2017-18.
The group said it showed the existing carriageway was "unsuitable, dangerous and certainly not fit for the future of Peterhead".
Since then, members have been on a mission to have their ambition heard locally – and by those who could make it a reality.
With help from local politicians, the group have been calling upon government roads bosses to get involved.
Their most recently success was having roads secretary Michael Matheson confirm that the dual carriageway idea would be considered as part of second Strategic Transport Projects Review by Transport Scotland.
Members have also teamed up with action group Why Stop At Ellon? as their end goal is the same.
Campaigner Bruce Buchan is hoping the petition can put pressure on those who make the decisions.
He said: "All of the big businesses historically left the town in a bid to have access to better transport links.
"We have so much in this town and we're the furthest from a rail link despite having the bay, the St Fergus power station and Boddam so we should have a dual carriageway."