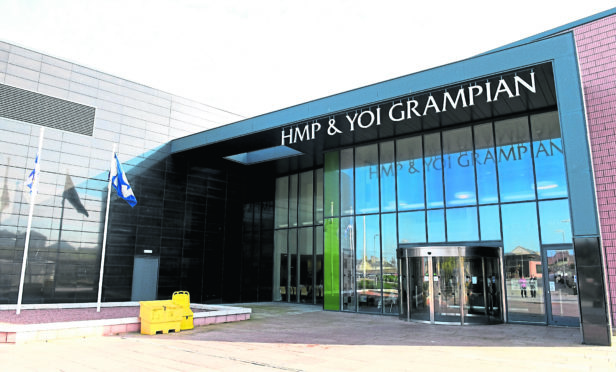 A north-east super jail has recorded a drastic drop in fires since certain "pests" were moved elsewhere.
Fire chiefs revealed last year that many of the fires at HMP Grampian and YOI had been set deliberately by inmates.
But councillors have now heard that after cracking down on a particular "pest", the number has decreased significantly.
In 2017, there were 17 deliberate fires and 55 false alarms in the jail. Last year, 19 fires were tackled and there was 38 false alarms.
This year so far, since relocating several prisoners, there has been only three fires and 19 false alarms.
Aberdeenshire fire station manager Craig Shand said: "These figures are great, but the fire service can only take half of the credit as the Scottish Prison Service has helped by moving certain individuals who were pests, some would say.
"Getting other agencies involved when there is a persistent problem has worked well here and we do the same in other areas."
One of those inmates who set his cell on fire was Lee Hipson, who was given additional jail time after admitting the offence at Aberdeen Sheriff Court in earlier this month.
The court heard Hipson smuggled lighters into the prison and set fire to clothing in a bin in his cell – after barricading his door with a mattress and blocking the fire hole to prevent a hose being inserted directly into the cell.
The alarm was raised on December 10 after flames were seen escaping from the top and bottom of his cell door.
Prison staff tried to tackle the flames with extinguishers, while fire crews attempted to flood the cell by pumping water under the door, but both were blocked by Hipson's barricades.
Smoke could be seen in the prison reception before a sprinkler in the ceiling activated and put the blaze out.
Hipson pleaded guilty to causing the fire, and his solicitor Nicolas McBride said a transfer to HMP Addiewell in West Lothian had helped his behaviour.
Hipson was jailed for six years and nine months in 2012 for attacking two people with a blade during a Christmas Eve robbery.
But his sentence was extended by 21 months last year after he faked appendicitis, slipped hospital security guards and went on the run for around 14 hours.
On August 15, Sheriff Morag McLaughlin added 54 weeks to his sentence for the fire-raising offence and said his "reckless" behaviour had put others at risk.