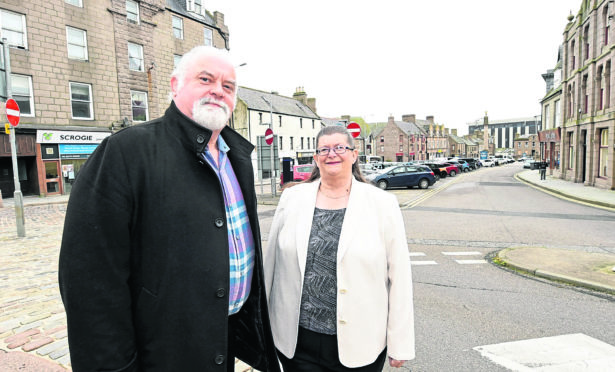 The streets of Peterhead town centre could be monitored by a network of cameras within a matter of months.
A petition was started calling for the introduction of a CCTV system in the wake of of a series of break-ins at business in the town in 2018.
At present, there is no camera cover, but Rediscover Peterhead yesterday put forward detailed proposals for a nine camera system that will cover much of the centre.
They hope is that the scheme will dissuade criminals, assist the police and make residents and businesses feel safer.
It will be financed through a combination of £79,000 funding from Aberdeenshire Council via the Scottish Government Town Centre Fund, along with around £13,000 Rediscover Peterhead money from the BID levy payers.
Three planning applications have been lodged with the council seeking additional permissions for some of the devices ahead of their installation.
Rediscover Peterhead manager Leslie Forsyth is hopeful the project will be completed in the next few months.
He said: "Depending on the planning process it is our intention to start introducing the system by the end of this year or early in 2020.
"Part of our job is to use the levy payers money to fund projects that will improve the town.
"We have the town centre fund money through the council and the levy can pay in £13,000.
"That will result in a nine camera, state-of-the-art  CCTV system that will comprehensively cover the centre of the town.
"We will also be offering local businesses the chance to link their CCTV into the system, which will be located in the police station.
"CCTV is no magic bullet. It doesn't stop human nature. But it can create a sense of safety and acts as a deterrent for those who may consider doing something."
Rediscover Peterhead outlined their project to the Buchan Community Safety group, whose members welcomed the progress being made.
Chairman Sandy Allan said: "The introduction of CCTV to Peterhead is long overdue and we are grateful to Rediscover Peterhead for taking this project forward.
"Having a good CCTV system can only assist in helping to make the residents and businesses of Peterhead feel safer and assist police in solving town centre crimes."
Geoff Cooper, CCTV project manager for Rediscover Peterhead, added: "There are great levels of support for the introduction of a new CCTV system.
"I really welcome the support from Sandy and the Buchan Community Safety Group.
"I would like to think that this system will see a reduction in crime and an increase in detection rates in Peterhead town centre."
To find out more about the project, contact Rediscover Peterhead on 07491 899459 or at email@rediscoverpeterhead.co.uk.