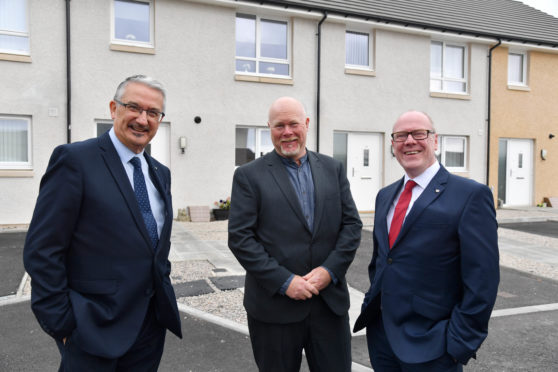 A £3.3million affordable housing development has been officially opened in Peterhead after being thrown into uncertainty last year.
Deveron Homes had originally started work on the 23-home scheme at Upper Grange, but went into administration last year.
Determined to deliver the project, developers Osprey Housing Group worked the administration process, and appointed Bancon to finish the housing in November.
Yesterday, Housing Minister Kevin Stewart said he was "very happy" that the "blip" had been overcome and that families were already settling in to their new homes.
The nine two-bedroom flats and 14 three-bedroom houses have been built in Lingbank Close.
Arlene McKenzie, who is one of those who recently moved in, said: "It has been amazing since we moved in.
"We've two boys aged 14 and seven who had been sharing a room before for long enough and now they've got their own rooms.
"It's made such a difference and all the neighbours are really nice and have bairns so everyone can play away.
"It's fantastic."
Mr Stewart was shown round several of the homes and said it was "more than just bricks and mortar" for those living there.
He said: "There was a blip during construction here but that was overcome.
"The key thing in all of this is that we are providing new affordable housing for people.
"We've got the biggest housing programme for decades going on at the moment.
"Seeing people so pleased with their houses itself makes me a very happy man."
The development was supported by a £2.1million grant from the Scottish Government alongside contributions from Aberdeenshire Council and Osprey's own private finance facility provided by Lloyds Banking Group.
Councillors and MSPs gathered to officially open the development, where Mr Stewart ceremoniously cut the ribbon.
Mike Scott, vice-chairman of Osprey Housing, said: "It's really nice to do something special on our 20th anniversary and to get to introduce this development that has a few challenges is pleasing to say the least.
"Although the original company went into administration, due to the good work and cooperation the scheme of development moved on to where we're at today.
"It was difficult but it was all worth it."