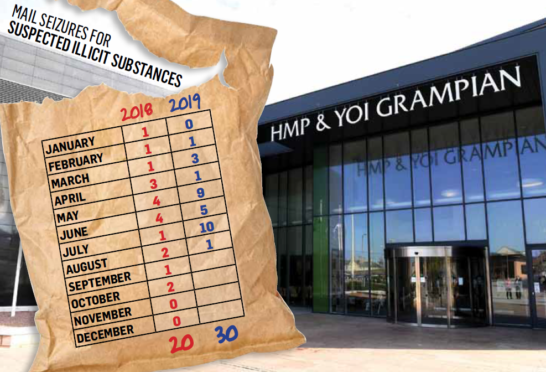 The number of packages north-east prison guards have seized on suspicion of drugs has soared in a matter of months, according to new figures.
Officers at HMP Grampian in Peterhead confiscated more parcels in the last four months than they did in the entirety of 2018.
Mail room staff blocked 25 items from reaching inmates between May and August, at a rate of more than one per week, compared to 20 over the course of last year.
The figures, obtained by The Press and Journal, have led to calls for tougher punishments to be imposed on those smuggling and dealing illicit substances in prisons.
Testing logs revealed that cannabis, cocaine and heroin were among the seized items, but these have been vastly outnumbered by other drugs which cannot be accurately tested for.
Unknown items including miscellaneous tablets and new psychoactive substances (NPS), or so-called legal highs, made up more than 80% of drug incidents at HMP Grampian this year so far.
These mimic the effects of other drugs, and their chemical compositions are often changed regularly by manufacturers without users knowing – commonly in a bid to avoid detection by authorities.
Prison chiefs are currently working on new methods to stem the flow of drugs in prison, and are also working to highlight the dangers of taking them.
Tom Fox, head of corporate affairs for the Scottish Prison Service, said: "There is an issue with NPS and people trying to get them into prisons by a variety of routes.
"People need to be aware of how dangerous these substances are.
"They are unpredictable and react differently to the body chemistry of particular individuals.
"One person could take an NPS and feel a high, but another could take it and it would kill them.
"People are taking something today and then taking what they think is the same thing the next day, but it's not.
"It's a real challenge and we are working hard to combat it."
Shadow justice secretary and North East MSP Liam Kerr said: "Prisons should be air-tight when it comes to drugs.
"But this data shows just how much contraband is still being sent to HMP Grampian.
"Brave prison officers are doing great work to protect against a pervasive drug culture."
Mr Kerr has called on for tougher sanctions to be imposed on those caught transporting drugs behind bars, as their behaviour is lessening inmates' chances of rehabilitation.
"Both prisoners and officers suffer because of that," he said.
"The SNP government needs to get tough on prison smuggling and make sure offenders are punished heavily when caught."
Banffshire and Buchan Coast SNP MSP Stewart Stevenson said: "I commend the police service for their progress in seizing drugs before they enter into our prisons.
"However, any suggestion of substance abuse and accessible drugs in our prisons are matters of grave concern.
"I strongly support every effort the Scottish Prisons Service is making to address this problem."
Growing trend
The number of drugs incidents at HMP Grampian has worsened in recent years.
In 2017 staff logged 131 such occurrences, or the equivalent of just under 11 per month, while 149 were noted in 2018.
For this year so far, from January to the end of August, 108 incidents were reported.
This marks the equivalent of 13.5 recorded every month, and a 22% increase in just two years.
Several systems are in place at prisons across the country to monitor drug usage and help those reliant on illegal substances.
During one unspecified month over 2018-19, the Scottish Public Health Observatory carried out drugs tests on inmates at HMP Grampian.
It found that, of the 69 people entering the prison, 80% tested positive for illegal drugs.
Over the same period, one-quarter of the 24 people released from the facility also tested positive with substances including cocaine, cannabis, benzodiazepines and opiates found in their systems.
The prison was praised for its work in helping prisoners reduce or eliminate their dependency on drugs during their sentence, but critics called for stronger safeguards to reduce the availability of drugs behind bars.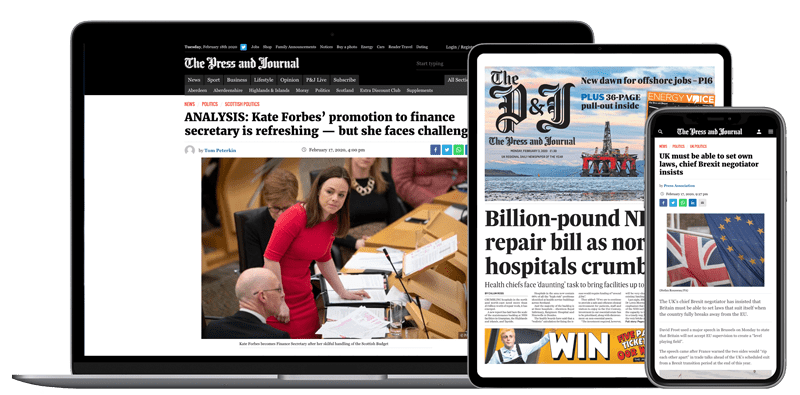 Help support quality local journalism … become a digital subscriber to The Press and Journal
For as little as £5.99 a month you can access all of our content, including Premium articles.
Subscribe