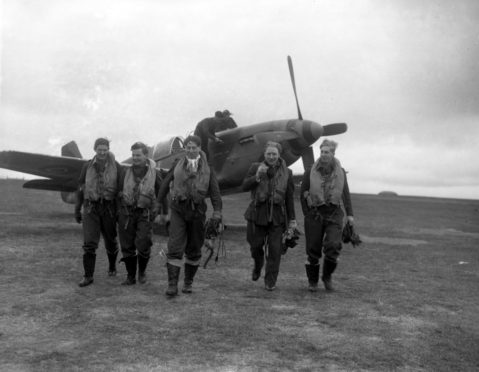 A sharp wind whisks across Longside airfield and the landing strip is completely exposed to the elements.
Once an RAF base in the Second World War, the weathered tarmac saw Spitfires take off for battle.
It may have been decades since weary pilots made their way home to north-east soil, but the site near Peterhead is still very much in use.
Roughly 500 metres of the former runway has been brought back to life by Buchan Aero Club and North East Aviators, who operate the airfield on behalf of CHC Helicopter.
Around 70 members make up the group, with people coming from all walks of life.
But they are united by one thing: a love of flying.
Whether you already have the ability to take to the sky or simply want to spectate, chairman Don Jack believes there is a place for everyone.
The dedicated team is now hopeful that they can preserve Longfield's fascinating past, with plans to create a museum where the public can learn about the history on their doorstep.
From the radio control room to the landing strip itself, Longfield offers an aching sense of nostalgia.
By the time RAF Peterhead was reduced to care and maintenance on August 20 1945, it is estimated that 4,000 personnel passed through the front gates and served there.
Records show that 55 members of the Women's Auxiliary Air Force were also based at Peterhead, with marriages and even a handful of births celebrated during wartime.
Don believes that the time has come for the many stories of Longside to be preserved for future generations.
"Longside has an enormous historic past," explains Don, who recently retired from the oil and gas industry.
"CHC has been tremendously supportive of ensuring that general aviation continues to thrive in the north-east.
"I've been chairman for the past six years – sometimes I wonder if many people even know we're here.
"Longside was once a living, breathing community, this was where Spitfires would be scrambled to meet incoming enemy fighters, and to protect the bombers heading to Norway.
"Can you imagine that?
"We have so many passionate members, who offer their experience and work for free.
"I think there's a huge misconception that you have to be a certain type of person to be part of an aero club.
"The reality is that some aircraft cost less than a car. If you think about a pilot, you usually associate the job with those who have a lot of money.
"So there's this belief that flying clubs are exclusive, when we're actually very inclusive.
"All you need is the desire to find out more about aviation.
"For a lot of people, learning to fly is something they've dreamed about since childhood."
Don has been flying for 42 years, yet his passion remains undiminished.
But there is no need to be quite as accomplished as he is in order to join the club in the first place.
The airfield hosts Aberdeen Air, an approved flying school that can offer training to students and pilots.
This means that enthusiasts can undergo flying lessons separately, as well as enjoying the social side of the club.
Some members already have their licence, however, and a handful of seasoned flyers keep their own aircraft in two huge hangers at Longside.
The outline of wings and propellers can be made out in the gloom, before the lights flicker into life.
"We keep 15 aircraft here, ranging from microlights to larger general aviation, and also an autogyro," explains Don.
"Our oldest pilot is approaching 80 and still flying.
"My own aircraft has a smaller engine than a car, but it is very efficient."
Although the airfield is unlicensed, members regularly embark on both short and long flights in the UK and abroad.
The club also offers flights for charity, with a particular focus on children's charities.
"We have a wide range of people operating their aircraft from Longside," says Don.
"People pop in throughout the week; you can always ask for help and advice on all matters to do with aviation.
"If time permits, you can look around the hangers, where you can see some of the microlights up close.
"Their frames are incredibly light, but tremendously strong"
"Flying can be addictive. For me, it offers the freedom to see the world from a completely different perspective.
"Obviously you stand a better chance of learning how to fly quicker if you're that bit younger, purely because your reaction times are quicker.
"That doesn't mean to say that it's too late to learn, though, as a number of people learn to fly once retired."
Veteran club member Gordon Smith is certainly of that opinion, and the 83-year-old only stopped flying in recent years.
He has been involved with Buchan Aero Club from the early days, and can recall seeing Spitfires on the airfield as a child.
"I have lived in Longside all my life, and I've done a few jobs in my time," says Gordon.
"I was a driver in the ambulance service and then I worked as a court officer.
"But before all that, I was a corporal in the RAF.
"I started flying in 1958 and Longside was part of my childhood.
"I grew up here and this one memory stands out.
"I was on the back of my mum's bike and she was cycling past the landing strip.
"There was a Spitfire, and I had never seen one on the ground before.
"I was so excited to see one up close.
"My mum stopped so I could have a look, but this man came over.
"Straight away he said, 'keep going, madam'.
"They were paranoid about spies in those days, and I suppose a woman with a child had the perfect cover.
"I always thought flying was like a drug, it's an addiction."
Although Gordon is no longer in the cockpit, he is a regular visitor to the club.
"We call him Mr Longside," jokes Don.
"Memories like that are invaluable, and we want to preserve Longside's past.
"We want to create a museum and a tearoom, but we've still got a lot of research to do.
"More members would also be fantastic, you can always be guaranteed of a warm welcome here."
The story so far
Mark Salt, who is both a member and the club's very own historian, has painstakingly researched Longside's history.
This is the remarkable story so far.
"Royal Air Force Peterhead was formally opened on July 7 1941, as a fighter command base.
"It was one of six sector areas covering Scotland, and had a purpose-built sector operations room.
"132 squadron was formed, and over the coming days and weeks, Supermarine Spitfire Mark Is and personnel started to arrive.
"The first operational sortie is noted as taking place on July 20, when Flt Lt Pennington and Sgt Preece provided air cover over a convoy.
"RAF Peterhead became a busy flying station, and pilots with as little as 10 hours' training on Spitfires found themselves in the air on combat air patrols of convoy duty, albeit with seasoned pilots.
"On August 14 1941, Sgt William Henry McAdam, of The Royal Canadian Air Force, was buried with full military honours at Longside cemetery.
"His mark I Spitfire crashed north of Crimmond in Aberdeenshire while undergoing testing.
"By the time RAF Peterhead closed, more than 40 servicemen had lost their lives. On the morning of November 30 1941, a German aircraft bombed the airfield, injuring three airmen and killing Flt Lt Kevin Charles Jackman, who was also buried in Longside cemetery.
"From November 1942 through to January 1944, Peterhead was used for night intruder operations, which included intercepting night flying enemy aircraft – who were either going to shoot down our own men or bomb British targets.
"After a number of air raids on Aberdeen in April 1943, a small number of air Spitfires moved regularly between RAF Dyce and Peterhead.
"One particular incident saw two Spitfires scrambled out of Dyce to intercept an enemy aircraft. On reaching the aircraft, the decision was taken not to shoot it down.
"Instead, it was guided in to land at RAF Dyce, where it was discovered that the plane was carrying the latest airborne radar equipment, and the crew had planned to defect.
"The actions of the German crew in handing over the aircraft and equipment to the Allies was a major intelligence coup – and the lessons learned from this would go on to save many Allied lives.
"As 1943 moved to 1944, the role of RAF Peterhead began to change.
"It moved from the defensive stage, in which it would scramble Spitfire aircraft to meet incoming enemy fighters, to one where the North American Mustang aircraft of the RAF would escort Beaufighters and Mosquitos of Allied squadrons from the nearby airfields of RAF Banff and RAF Dallachy.
"These missions invariably took place over occupied Norway, where the RAF and its allies would meet strong German airborne resistance.
"The Mustangs would engage the German fighters and keep them occupied, allowing the Mosquitos and Beaufighters to sink German ships – thereby disrupting the enemy's ability to produce war materials.
"Reading through the records, it is clear that RAF Peterhead was built out of necessity. It was still a happy place, and service personnel and civilians had access to a dance hall, gymnasium, cinema, shop and barbers.
"Regular trips to Aberdeen took place, with visits to the theatre or local baths. A lot of research is still needed to drag out the full story."
For more information on Buchan Aero Club, call Don Jack on 07779 249325 or visit buchanaeroclub.co.uk