Peterhead-born director urges SNP vote saying his Tory grandmother would be 'ashamed' of the party
Movie director Jon S Baird has rallied support for the SNP in the north-east, claiming his Tory grandmother would be "ashamed" of the party in its current form.
Mr Baird – famous for the Irvine Welsh adaptation Filth, starring James McAvoy, and this year's Bafta-winning Stan and Ollie – swapped Hollywood for his hometown yesterday as he campaigned for the SNP in Peterhead.
He took the opportunity to urge voters to back candidate Paul Robertson, turning his back on his grandmother's party.
Mr Baird's relative, Jeannie Lamb, was a Conservative councillor while Mr Baird still lived in the town.
But now, he's convinced she would look down on her party's recent actions.
Mr Baird, who studied politics at university, said: "My late grandmother, Jeannie Lamb, would be ashamed at the extremist direction that party has taken.
"Brexit has unfortunately turned out to be a big con in my opinion and if Boris Johnson gets in I honestly think it will lead to substantial economic damage in the north-east.
"His lies appear to be never-ending and his alleged plans to auction off the NHS to Donald Trump are really worrying.
"I was born and raised in the north-east and have never stopped wanting the best for it.
"I therefore hope the Tories are removed from government and I feel the SNP are definitely the best equipped to do that."
Mr Roberston said was "delighted" to have Mr Baird's support as he vies for the Banff and Buchan seat.
He added: "A vote for the SNP on Thursday is a vote to reject almost a decade of Tory
austerity and to lock Boris Johnson out of Downing Street."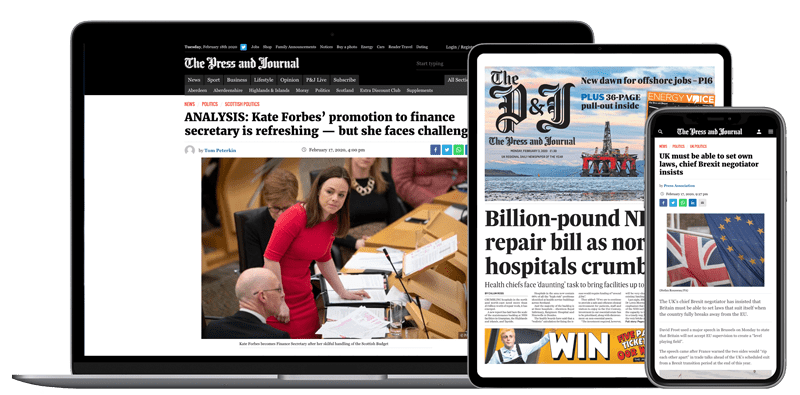 Help support quality local journalism … become a digital subscriber to The Press and Journal
For as little as £5.99 a month you can access all of our content, including Premium articles.
Subscribe