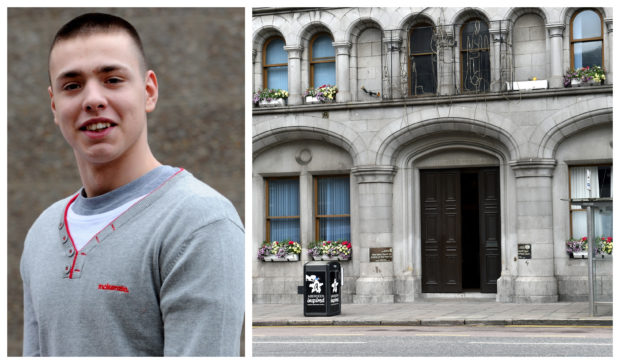 A man has been jailed for staging a "barbaric" attack where he offered a woman the choice of attacking her with a hammer or a knife.
Thomas Chesterton, 26, made Charlene Whyte place her hands on a table before ordering her to choose a weapon and allow him to either break her fingers or cut them off.
Working with 25-year-old Charley Ironside, the pair also punched the woman in the face repeatedly – leaving her with bruises and swelling all over her face.
Chesterton and his victim had been friends, and they had exchanged letters back and forth while he was serving a previous prison sentence.
On June 14, around two weeks after his release, he had been at Ms Whyte's house in Peterhead along with Ironside when he "turned" on her for unknown reasons.
While his accomplice seized their victim by the hair, Chesterton instructed her to punch her in the face repeatedly.
He then forced Ms Whyte to "choose" how he injured her, leaving her with a broken finger.
It took a jury just two hours to find Chesterton guilty when he was tried for the crimes last month.
Before those proceedings, Ironside, of Tullochgorum Gardens in Peterhead, admitted seizing Ms Whyte by the hair and punching her.
She claimed to have been solely responsible for the attack, but Sheriff Andrew Miller said he disagreed with her version of events.
He ordered her to complete 160 hours of unpaid work at Aberdeen Sheriff Court yesterday – but she refused and was instead given a 10-month prison sentence.
Sheriff Miller told Chesterton: "You had exerted control over the co-accused, telling her when to set about punching, and the most disturbing part – where you gave her the choice of having her finger cut off with a knife or smashed with a hammer."
He added that social workers deemed Chesterton to pose an "immediate risk of serious harm to the public", with imprisonment the only suitable option as punishment.
He sentenced him to 42 months behind bars for the attack, plus an additional 532 days relating to how quickly he had re-offended following his previous spell in prison.