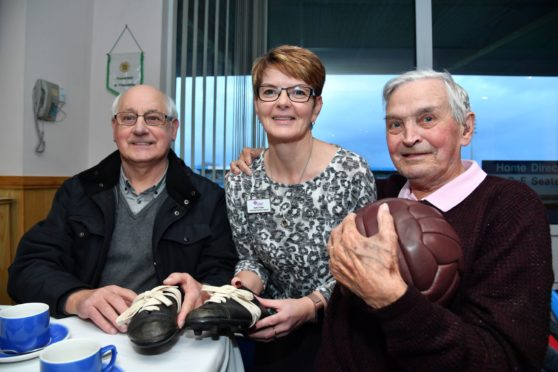 Peterhead FC hopes that encouraging fans with dementia to reminisce about the club's past glories will unlock other precious memories.
The north-east side has teamed with the Alzheimer Scotland charity and Football Memories Scotland scheme to help those affected by the condition.
Once a month, at the Blue Toon's Balmoor Stadium, staff provide a relaxed and welcoming environment for people to reminiscence, share stories and have fun.
The project has a number of benefits as it helps improve the quality of life for people living with dementia. It helps to stimulate memory processes and improves confidence and mood.
Attendees browse old programmes, watch videos of fondly-recalled fixtures and sometimes even bring in their own scrapbooks.
Local representative for Football Memories Scotland in Aberdeen and Aberdeenshire, Alan Johnstone, said: "Football is used as a trigger to help people remember other memories.
"For example, we sometimes show videos of old games which can help them remember who they watched that game with – and what they did after it."
Football memorabilia such as old programmes, scarves and boots are put on display and those who attend can bring their own personal mementos to spark discussion and jog some decades-old memories.
But the project is not exclusive to those affected by dementia.
Mr Johnstone said: "The project also helps people affected by other conditions, such as social isolation and reduced mobility, as well as those recovering from strokes."
Community liaison officer at Peterhead FC, Nat Porter, said he was pleased with the response to the project.
He said: "We have people asking about when these meetings are happening, it's something that's growing and growing.
"At the last meeting, this week, one man brought a scrapbook filled with all sorts of football photos that I'd never seen before. I was really blown away by it."
The group meets in Peterhead on the third Tuesday of every month at the Balmoor board room from 2pm to 3.30pm.
The sessions are free of charge and there is no requirement to book a place.