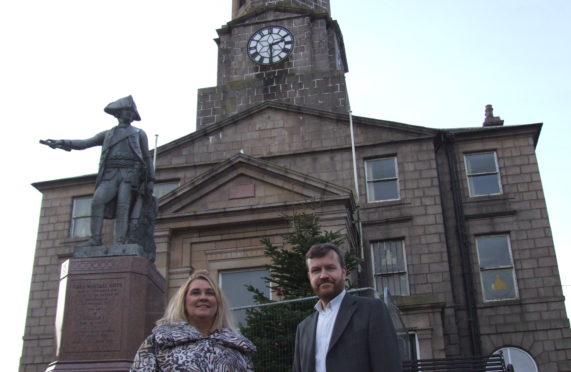 A specialist team of consultants are investigating new uses for an "important" B-listed north-east building.
Peterhead Town House has been recommended for a total redevelopment after a recent survey highlighted its deterioration which requires urgent work.
Now, thanks to a £10,000 grant from Aberdeenshire Council's Peterhead Development Partnership, the Feuars have appointed a team to assess how best to use the property.
It was constructed in 1788 for the Community of Feuars in Peterhead to replace an earlier administration and prison building.
A two-storey extension was added in Marischal Street in 1832 to provide a market place, holding cell and witness room.
Final changes took place when the external stair was replaced with a horseshoe chair in 1859 before it was enclosed in 1881 in its current layout.
Feuars manager Dianne Beagrie said: "I am delighted that the Peterhead Development Partnership has made this grant award and I hope that an appropriate use or uses can be found to help secure the long-term future of this important building."
The B-listed landmark at the top end of the town's traditional market square features a single, distinctive symmetrical block with a prominent steeple.
Inside, the building still retains more of its historic integrity including the prison cellar at the heart of the entrance and the ornate plaster work.
The Citizens Advice Bureau uses the ground floor, but the upper floors are empty.
PDP chairman Stephen Smith said: "The reuse of vacant or derelict buildings in the town centre has been identified as a high priority for us, so it's great that efforts are being made to try and find a suitable way forward to regenerate the Town House.
"I naturally hope that a solution can be found so it can, once again, play a significant role in our town centre."
Located in the heart of the Peterhead Outstanding Conservation Area, the assessment may lead to applications for National Lottery Heritage funding to allow improvements to be carried out.
Aberdeenshire Council's regeneration executive Nick Brown said: "The Town House is a landmark public building of high architectural quality and it is important for the town's regeneration that it is used effectively and appropriately in the years ahead.
"I am encouraged there is intent to create new use and, in doing so, conserve this fine, prominent town centre building."