 Heavy fog forced the cancellation of a performance by the world famous aerobatic display team The Blades in Peterhead last night.
Organisers said they had no option but to call off the display – which was part of the town's Scottish Week – due to poor visibility.
It was first hoped that the event might be able to be moved further inland, but this was not possible as all display paths have to have prior approval from the Civil Aviation Authority.
While crowds were left disappointed by the cancellation, they were still able to take part in a Just Dance concert before being treated to a stock car demonstration by six-year-old Josh Bruce.
Scottish Week treasurer Graham Barron said they had waited in case the fog lifted, but had to cancel the aerobatic event.
"Visibility was below 100 feet so there was no way that it could go on. Unfortunately the display team are fully booked so we couldn't postpone it to another day," he said.
"This is the first time in about 25 years that we have had to cancel it, so I guess our luck had to run out sometime."
He added: "The whole week has been phenomenal though. The event brings everyone together and after 53 years it's just fantastic to see the huge numbers that are still interested in Scottish Week."
There were also performances from bands throughout the evening including Indian Red Lopez, Raw Stereo and The Unknowns, with the show drawing to a close just after midnight.
Today there will be a carnival procession involving 14 floats led by the Howe O' The Mearns pipe band while kids can take part in a fancy dress competition at Peterhead Congregational Church.
And tomorrow, the town folk will be able to enjoy beer and sausages at the Waterside Inn.
Peterhead is the only town still holding Scottish Week and organisers are already planning for next year.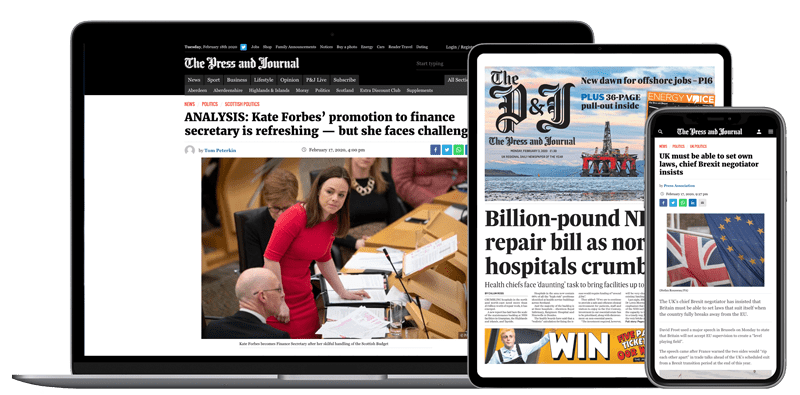 Help support quality local journalism … become a digital subscriber to The Press and Journal
For as little as £5.99 a month you can access all of our content, including Premium articles.
Subscribe