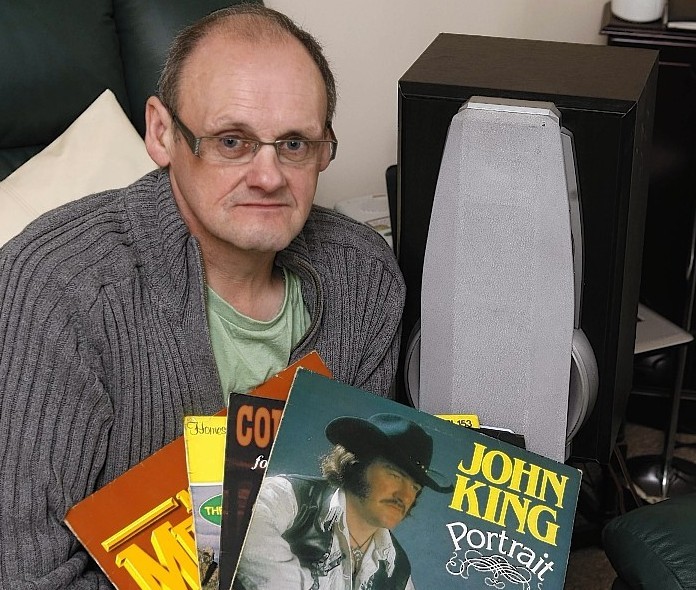 Local authority chiefs are taking legal action to silence a diehard country music fan after a chorus of complaints from his neighbours.
Michael O'Rourke is being taken to court by Aberdeenshire Council after he repeatedly blasted out tunes from his ground floor flat in Peterhead.
In April, the partially deaf music lover had his stereo confiscated by a court after police were twice called to his home following complaints about loud music.
The 55-year-old Dolly Parton fan, who has a vast collection of country music LPs, lashed out when officers tried to remove the record player from his property.
Last month, Mr O'Rourke returned to the dock at Peterhead Sheriff Court after police were called back to his home in Gadle Braes on two further occasions.
Neighbours reported that he was now using a CD player to listen to his songs.
The local authority wants to issue Mr O'Rourke with an antisocial behaviour order (Asbo), which will make it a criminal offence for him to play his music at an excessive volume.
If the order is granted, he could face a fines of up to £5,000 – or even five years in prison – if he breaches it.
The council has raised a civil action at Peterhead Sheriff Court, which is being challenged by solicitors representing Mr O'Rourke.
The court has issued an interim Asbo, pending a full hearing later this year.
A council spokeswoman said last night: "The council and its partner agencies are committed to tackling antisocial behaviour within our communities and will explore various options in order to address problems reported to us.
"While many cases can be resolved via informal and or voluntary measures, there are cases where the persistent nature of the antisocial behaviour means that statutory intervention is required."
Mr O'Rourke, who was once described by a sheriff as "the oldest raver in town", declined to comment.
Police officers have been called to his home at least four times since the middle of March.
At his last court appearance, he was ordered to do 50 hours of unpaid work as part of an 18-month supervision order.
During the hearing, Sheriff Mark Stewart QC suggested a solution.
"Someone should make a mark on the volume switch to show him what is an acceptable level," he said. "It's not rocket science."
Other solutions suggested at earlier hearings included using headphones or listening to music through an iPod.
In 2010, Mr O'Rourke, who was once banned from a bingo hall for shouting "house" too loudly, told a neighbour at a previous property that her family "was dead" after she complained about him being noisy.
And a year earlier, Mr O'Rourke was fined £150 after he admitted ranting and swearing at another neighbour after they too reported him to police about the volume of his music.
He previously said: "Why should I stop listening to my favourite music just because of a few vindictive folk? I'll never stop playing my vinyl."