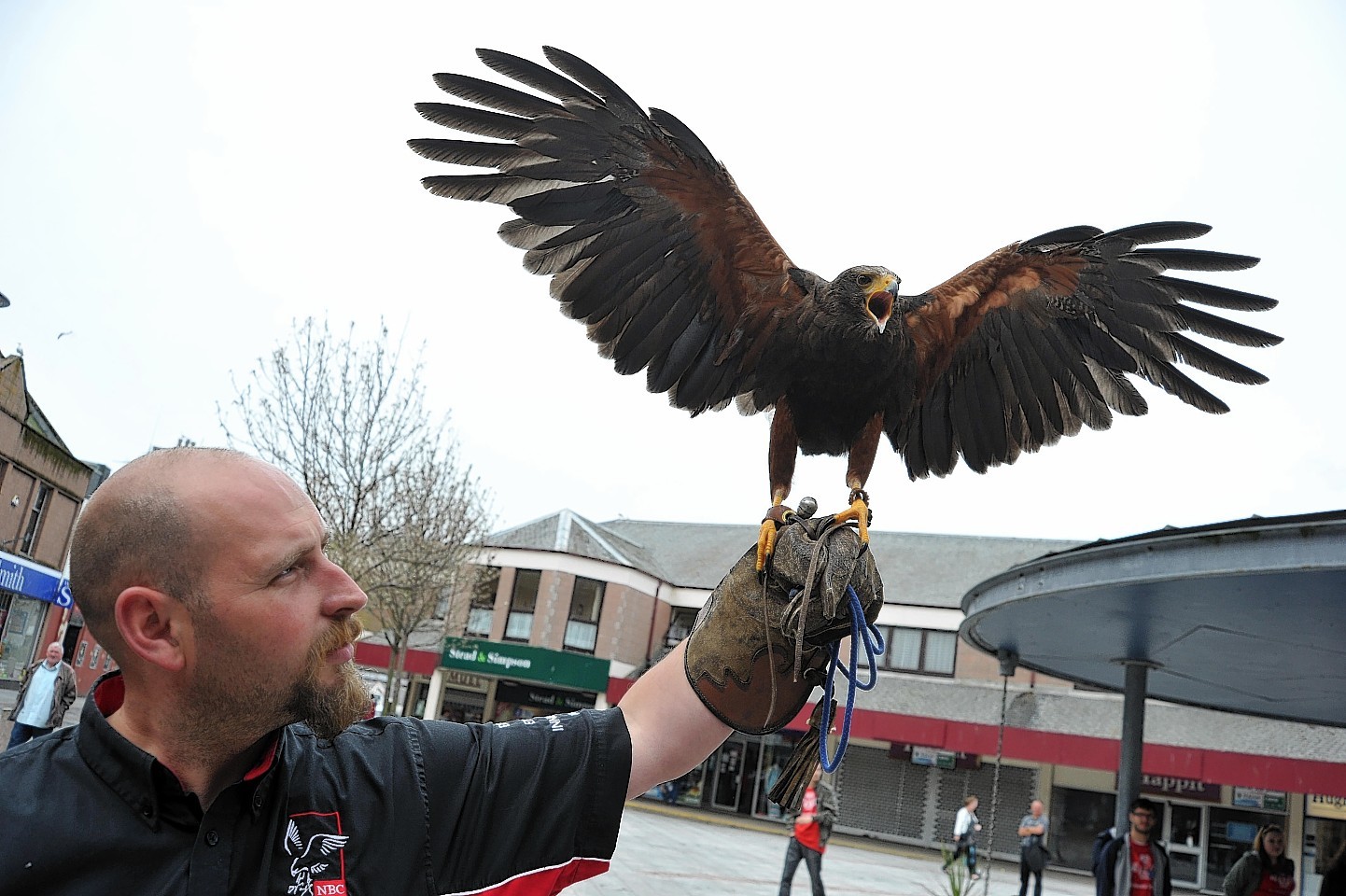 He was supposed to strike fear into the hearts of his foes as he swooped and circled above a north-east town.
Like a winged avenger, Storm the Harris Hawk was tasked with ridding Peterhead of its long-standing seagull problem, while protecting its citizens and their lunchtime pieces.
However, it looks like the port's notorious scurries – as they're known locally – are no match for this bird of prey.
An exclusive video, which went viral after appearing on the Press and Journal's website yesterday, shows that the infamously tough seabirds have started ganging up on the raptor.
The clip shows the otherwise impressive hawk flinching and cowering on a rooftop while dozens of seemingly fearless gulls swoop and dive around him, squawking loudly.
Storm was drafted in to Peterhead three weeks ago by Aberdeenshire Council after several shoppers complained they been attacked by gulls during their nesting season.
One local, for example, reported a gull had snatched his hot dog out of his hand while he was eating.
Despite the merciless bullying, the local authority has hailed the pilot scheme – which ends today – a huge success.
Heather Barclay, project officer for the town centre, described the seabirds' actions as "false gull bravado" and said Storm, and his stand-in Red, had been taking it on the chin.
She said: "The gulls' natural first reaction to the hawk is to try and mob it. Storm deals with this by sitting tight and leaving them to it until they get the message that he is not impressed and doesn't intend to leave.
"It may look as though he's having a hard time, but it's really just false gull bravado. They swoop in and dive bomb a few times, then gradually fly higher and further away, before slinking away quietly while nobody is looking."
She said most of the gulls had left the area since Storm came on the scene.
Ms Barclay added: "Feedback from local people has been very positive and we've lost count of the number of folk who have thanked us for doing something about the scurries.The atmosphere in the town is much more relaxed."
She said this was the first stage of a wider programme aimed at tackling the seagull menace. "Over the winter we will be looking at the various options and haws will feature in this," she said. "However, we will need a number of measures taken together, hopefully in partnership with local community."
In 2003, the local authority tried a different tact to deter seagulls from nesting in Fraserburgh.
A robot falcon was introduced in an effort to scare the birds away. However, after just three weeks the gulls got used to the device and regularly sat happily beside it.