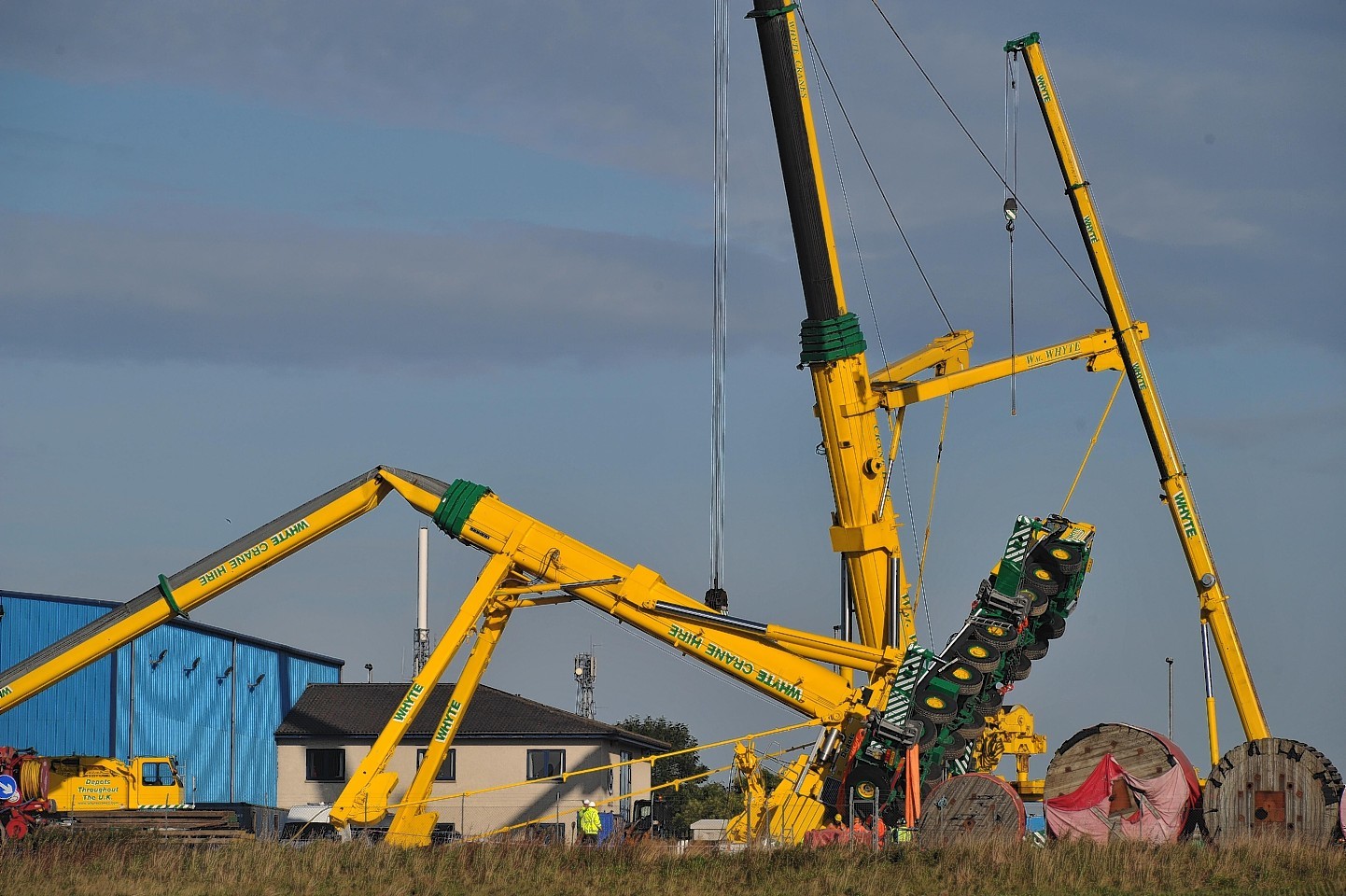 Workers are a step closer to salvaging a toppled £3million crane from Peterhead's Dales industrial estate after completing day-long operation to remove its boom.
The 96-tonne vehicle, owned by Ellon-based Whyte Crane hire, has been stuck at Aquatic Engineering's premises, on the outskirts of the north-east town, since May.
Manufactured by Liebherr, the 500 tonne capacity machine had fallen over when its tail sank into the ground. The £3million vehicle's huge lifting boom buckled and left the driver's cab 50ft above the ground. No one was injured in the incident.
Work to remove outer sections of the boom before cutting it off completely had been underway throughout the morning and early afternoon of Wednesday. A breakthrough was made at around 4.55pm when one of the five cranes involved began to lower the damaged section of the felled vehicle's arm to the ground.
The yellow and green crane has been visible from the A90 Peterhead to Fraserburgh road since the accident took place.
Throughout the day, locals had visited the site which has become an attraction for novelty pictures. Police Scotland have, however, restricted parking along much of the roadside near the estate.
As part of the ongoing recovery efforts, dozens of workers are involved in the operation to right the eight-axle vehicle.
A spokeswoman for Aquatic had previously said: "We are working with the local constabulary to restrict access to all but those engaged in the recovery, or working in and around the Dales industrial estate for the duration of the operation.
"A team of 40 people will be on site, together with four or five cranes needed to assist in the recovery."
The firm are understood to be liaising with other businesses in the area, safety groups, and Aberdeenshire Council to ensure that the local community are kept informed of its recovery.