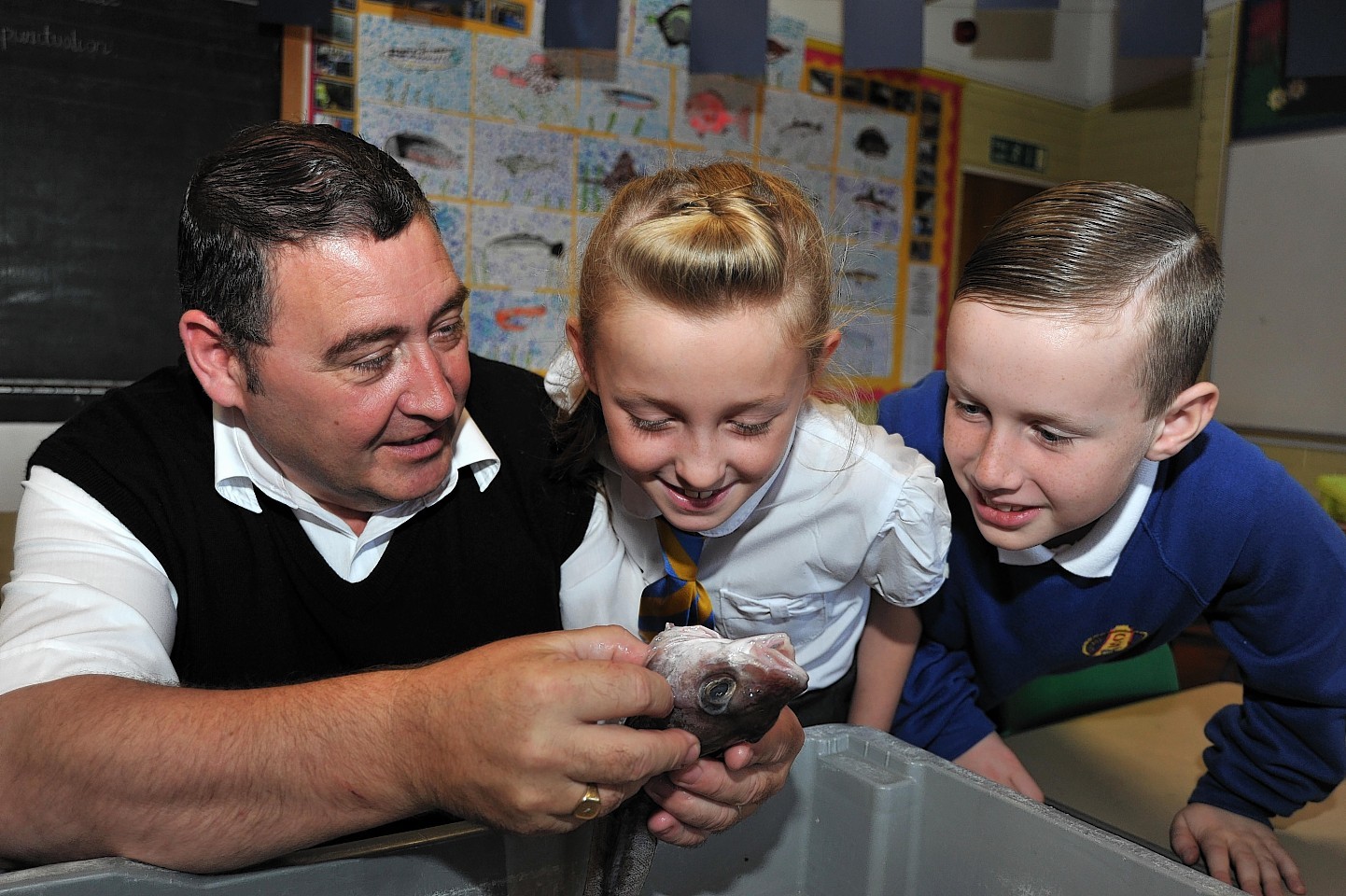 'Trawlermen' star Jimmy Buchan has helped launch a new seafood learning pack during a visit to a north-east primary school.
The Peterhead skipper was joined by Heather Middleton from the 'Fish is the Dish' project at the town's Clerkhill School.
The pair unveiled learning materials that will soon be rolled out to every primary school in Scotland.
The pack – which includes posters, booklets, stickers and free online resources – is designed to help bolster teaching which focuses on the health benefits of seafood.
Mr Buchan, skipper of the Peterhead-registered Amity, said: "This is what it's all about. We want to be a fish-eating nation like our European counterparts and this is where it starts.
"But it's also about having fun with the kids. Quite a high number of them said they already eat fish.
"Now it's great they're putting these packages together and we're able to roll them out."
During his visit, Mr Buchan and class teacher Marina Smith asked the primary five class how many different types of fish they could name.
The children listed an impressive 33 species – by comparison, some schools visited by 'Fish is the Dish' in England and Wales could not name more than seven.
Miss Middleton said: "This is the first time the education pack has been in a school and with it being Peterhead, it seemed like a perfect place to start.
"The pack has different lesson plans, covering health benefits of seafood. It gives teachers confidence in the material.
"Jimmy has so much passion and he was an obvious choice. Now we're asking teachers for their feedback."
Miss Middleton added that 'Fish is the Dish' are working to extend the packs for older children. The current materials are suitable for ages five to eight.
Roy Ballam, education manager at the British Nutrition Foundation (BNF), said: "It's important that children understand that there are different types of fish that they can prepare, cook and eat, and that it is part of a healthy varied diet.
"School resources that help teachers deliver these important messages are welcome."
The resource pack has been developed by Fish is the Dish – the consumer and education face of seafood authority Seafish – and the BNF.