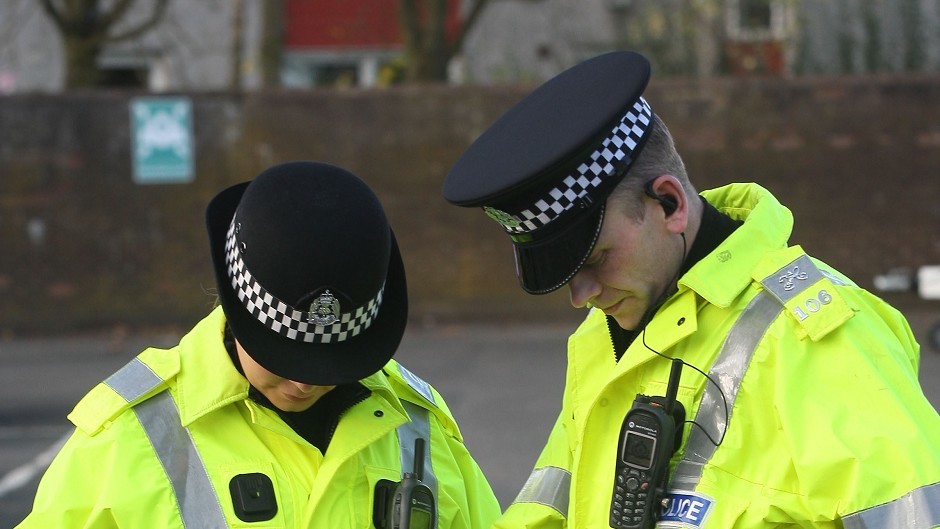 Police chiefs in the north-east's biggest town have launched a fresh crackdown on rising levels of antisocial behaviour.
Volunteers – including a circus troupe – are being drafted in to help clean-up Peterhead's town-centre after a survey last year found one in six residents were too afraid to visit the shopping precinct.
Officers have faced an alarming rise in vandalism and shoplifting, particularly in areas where young people congregate.
And last night the inspector in charge of the operation, George Cordiner, issued a stark warning to families to play their part too.
He said: "We've got a message for parents – do you know where your kids are during these light nights?
"Do you know what they're up to? "Do you realise they could be engaged in antisocial behaviour?"
The recent crime wave has resulted in shop windows in Peterhead's shopping precinct being smashed – and the protective hoardings erected to cover the damage spray painted.
A number of deliberate fires have also been set at the new £90,000 community-funded Eden Park play park.
Inspector Cordiner said children from crowded town-centre accommodation used the open space in Drummers Corner as a "living room" – a meeting place and play area.
With this in mind, the force has taken the unusual step of teaming up with circus group Theatre Modo to engage young people in "diversionary" activities.
Insp Cordiner said: "We've done work to analyse where the trouble has been and there are a few hotspots in town that came to our attention – Eden Park play area and Drummers Corner.
"What we found, unusually, was that if you ask people when the priority times were they will say Thursday and Friday nights are when kids are causing trouble.
"But the reality is that the busiest nights for antisocial behaviour in the town are Mondays and Tuesdays between 4-8pm.
"Those two nights have very few kids clubs going on, They have nothing to do so they're going out and causing issues.
"We're trying to divert them away from this behaviour to something more constructive."
Theatre Modo's artistic director Martin Danziger said the new initiative was already showing signs of success.
He said: "Anecdotally, people are reporting fewer problems as a result of us being there which is great.
"Another aspect, which is beginning to work, is that by having a really big public positive presence in an area it discourages people from using it in an antisocial way."
Last year an independent survey of hundreds of Peterhead residents revealed the town's ailing shopping district has become a no-go zone for some residents.
The majority of those surveyed said they were visiting the town-centre less than ever before, and of those 15% said "personal safety" and "undesirable people" were factors.
Last night Peterhead councillor Alan Buchan said tackling antisocial behaviour in Drummers Corner had to be a priority.
"More and more young people are gathering there, throwing things and chasing people as they go back and forth," he said.
"It's something we should get on top of before it escalates into something more sinister. I think this is a good approach because if you get young people involved at an early stage it tends to divert any further misbehaviour up the scale."
Fellow Peterhead member Tom Malone has been a vocal proponent of improvements to Drummers Corner and said a comprehensive approach was needed.
He said: "We're all concerned about the regeneration of Peterhead – it's unattractive and unwelcoming.
"If you've got a town-centre devoid of restaurants and cafes, local residents aren't going to use it. That attracts the wrong kind of people. It's dead space outwith business hours and it's a multi-faceted problem.
"There's no straight fix, but I think the involvement of Modo is fantastic. They have their finger on the pulse of youth activity locally."