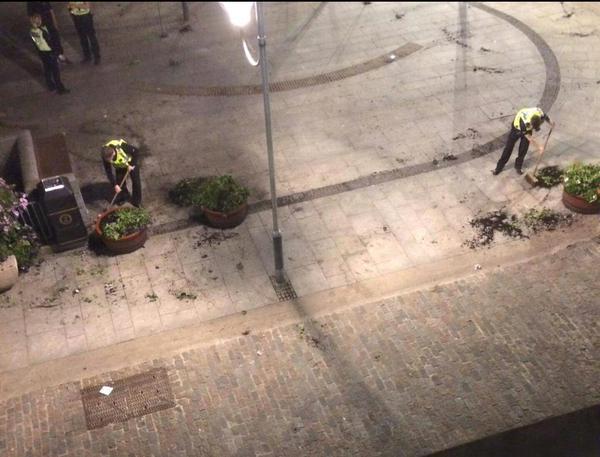 Peterhead residents have been left furious after the heart of their town was trashed by a vandal on Saturday night.
Photos of police officers sweeping up flowers torn from beds in the Drummers Corner area during a "disturbance" provoked outrage from community leaders.
Peterhead community council chairman John Brownlee, who has been closely involved in the regeneration of the site, said he was hugely disappointed.
"It's a stupid action and it's totally unnecessary," he said. "It's idiotic and sets back what we're trying to do in the town-centre.
"It's just so disappointing that someone would think to go and smash it all up. It's disappointing that we try and improve the town-centre as best as we can but it's not always appreciated."
However Mr Brownlee insisted the setback would not stop the community council's effort to rejuvenate the town's ailing shopping precinct.
He added: "We will keep on working away to improve the town centre."
Photographs of the aftermath of the incident, which happened on Saturday night, show two police officers sweeping up flowers which had been ripped from three heavy wooden flower plots.
The image was seen by thousands of people on social media, prompting many to condemn the vandalism.
Sods of earth and uprooted flowers could still be seen on the roof of Peterhead's famous Drum bandstand yesterday morning.
Last night a council worker involved in planting the flowers said some residents in Peterhead had lost respect for the town.
The man, who did not want to be named, said: "I'm angry that the community moans all the time about Aberdeenshire Council not making an attempt to make the town better – but when we plant the beds members of the public ruin them.
"'Respect' left everyone's vocabulary years ago."
A police spokesman confirmed a woman had been taken into custody following a "disturbance" at the weekend.