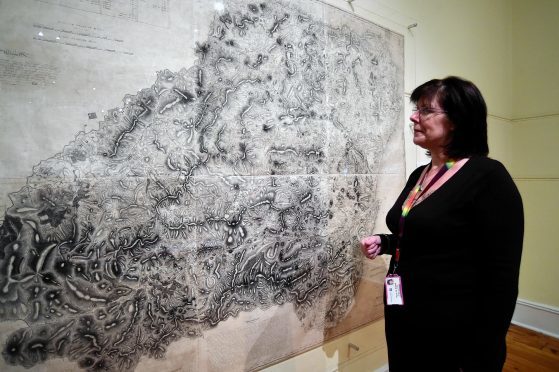 A 200-year-old map of the north-east, sketched by "conman craftsman" James Robertson has gone on display at a Peterhead museum.
Aberdeenshire Council's museum service is currently hosting a series of striking maps of Aberdeenshire and far-flung Jamaica drawn by the Shetland man.
The rare works, which have never been shown outwith Shetland, were unveiled to the public at Peterhead's Arbuthnot Museum yesterday.
Mr Robertson, who was born in 1753, left Shetland as a boy to study at grammar school in Aberdeen and later at Marischal College.
He travelled to Jamaica to find his fortune and quickly became an expert land surveyor, producing accurate maps of Jamaica which are now on display in Peterhead.
He later returned from the Caribbean and, in 1810, was commissioned to survey and draw a new map of Aberdeenshire and Banffshire.
Museum curator Fiona Clark said: "This is only the second public showing of the maps, and the first on the mainland. It's also the first time we've had a loan from another museum – we've been approved for that."
"James Robertson made his fortune in Jamaica and was sufficiently wealthy to move to various posh addresses in London. It was then he was commissioned to do this map of Aberdeenshire."
The project took 12 years to finish, was riddled with "inaccuracies" and spelling mistakes, and sparked a legal dispute which raged until his death in 1829.
Ms Clark added that the focus of yesterday's presentation was deciding whether or not Mr Robertson was a "craftsman or conman".
Councillor Alison Evison, chairwoman of the local authority's education, learning and leisure committee, added: "We are delighted to be hosting an exhibition of such quality, working with our national and regional partners, and I would encourage everyone to visit the exhibition."
It runs at the town's Arbuthnot Museum until 20 February.
The Aberdeen map and the four depictions of Jamaica on display have been loaned by the National Library of Scotland.
Also on display are personal effects of Mr Robertson on loan from the Shetland Museum and Archives.