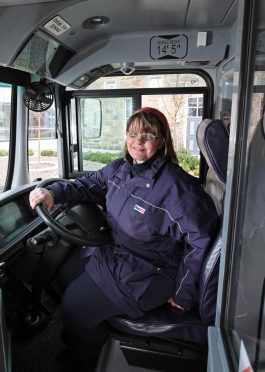 A north-east woman has been named as one the country's greenest bus driver for the third time.
Sandra Cordiner has been a driver with First Aberdeen for five years and this week received news that she had won the coveted title for her environmentally friendly driving – beating out 17,000 other bus drivers across the UK.
The 44-year-old, from Peterhead, is one of 89 drivers to be recognised by the bus firm's GreenRoad Fleet Elite awards.
The drivers were measured on their DriveGreen performance.
The scheme aims to provide passengers with a safer, smoother journey while also reducing the company's carbon footprint.
Ms Cordiner's performance was described as "exceptionally good".
Last night, she said: "It's really important to me that my passengers enjoy their trip on the bus.
"Since First introduced DriveGreen a few years ago it has certainly helped me improve my driving skills – I've even had customers compliment me on how smooth their journey is. Now when I am driving the car in my time off I continue to use the DriveGreen principles and drive more smoothly – it's safer and saves petrol."
First Aberdeen's managing director, David Phillips, added that he was "proud" of all of the company's drivers.
He said: "We're all incredibly proud of Sandra's achievements too – a hatrick of wins shows her dedication to providing bus passengers in Aberdeen with the smoothest journey possible is second to none."
Last year, First Aberdeen unveiled a fleet of green buses to replace 10 diesel vehicles.
The buses, valued at £21million, produce no harmful emissions and produce only water vapour at the tailpipe. They have proven to be almost four times more fuel efficient than their diesel equivalents.