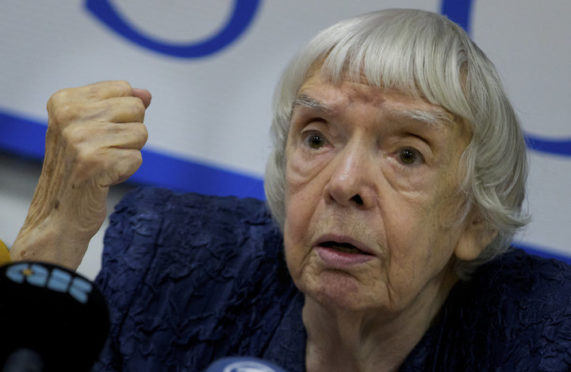 Lyudmila Alexeyeva, a defiant symbol of resistance in modern-day Russia, has died at the age of 91.
Born in 1927 in the Crimea, she went on to tirelessly defend human rights in the USSR, and later in Vladimir Putin's Russia.
Alexeyeva was a founding member of the Moscow Helsinki Watch Group, and one of the last Soviet dissidents still active in modern Russia.
The activist died on Saturday afternoon in a Moscow hospital.
Alexeyeva was born to an economist father and mathematician mother, both of whom were Communists who venerated Lenin.
But she lost confidence in the Soviet system when Stalin's crimes were revealed by new leader Nikita Khrushchev.
Spurred to create change, she held meetings at her flat for the Soviet dissident intelligentsia in the 1950s.
She campaigned against trials for dissidents, losing her job as a science publisher and enduring numerous searches and interrogations at the hands of the KGB.
With her security under threat, she left the USSR in 1977 to live in the United States, continuing her fight from afar through her writing and academia.
She returned to Russia in 1993, after the Soviet Union's collapse under President Boris Yeltsin.
On Alexeyeva's 90th birthday, Putin gave her a state award for 'outstanding achievements in the protection of human rights, and praised her 'courage'.
The European Parliament in 2009 awarded Alexeyeva the prestigious Sakharov Prize for defenders of human thought, along with the Memorial human rights group.
"If I save even one person, it's already a true joy," she said at the time.
In 2014 she strongly criticised Moscow's seizure of the Crimea peninsula from Ukraine  for 'bringing shame on my country'.
And the following year, she denounced the 'awful political killing' of opposition leader Boris Nemtsov.
In the wake of her death, many Russians have now paid tribute to the courageous activist.
The Moscow Helsinki Group has lamented the loss of a "legendary, wise and humane person who remained a defender of human rights until the last moments of her life."
Russia's rights ombudswoman Tatiana Moskalkova, speaking to the Interfax news agency said: "For those who have appreciated democracy in the past, for those who appreciate it now, and those who will appreciate it in the future, Lyudmila Mikhaylovna has always been and will always be a symbol of honesty and the uncompromising struggle for human rights."