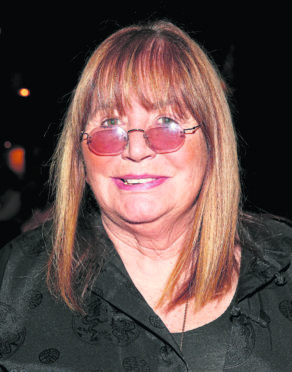 A major TV star who went on to become one of Hollywood's top-grossing female directors has died at 75.
Penny Marshall was a household name across the world in the 1970s, mainly due to her starring role as Laverne De Fazio in Laverne & Shirley.
The show was not her first taste of fame however, as she had played recurring characters on influential programmes including The Odd Couple and The Bob Newhart Show.
But everything changed when she appeared in an episode of Happy Days in 1975.
Proving a huge hit was audiences, she was given the chance to feature in a spin-off alongside sidekick Shirley, played by Cindy Williams, which ran for 178 episodes and eight seasons.
The programme followed the adventures of the two roommates across Winconsin and California and, by its third season, was the most-watched series in America.
It also garnered a series of Golden Globe and Emmy nominations, an animated spin-off and even dolls and a Hot Wheels toy.
Following the show's success the possible opportunities open to Marshall skyrocketed and, encouraged by her brother, she took the helm and directed a number of major films.
These included 1988's Big, which starred Tom Hanks, and influential sports comedy A League of Their Own.
In 1991 she was awarded the Women in Film Crystal Award, presented to those who have used their Hollywood influence to expand the role of women within the entertainment industry.
She was recognised again in 2013 when she was given the Women of Vision award, following in the footsteps of names including Kathy Bates, Mary Steenburgen and Sharon Stone.
Marshall continued to work in showbiz until 2016.
She took on a variety of acting roles on the big and small screen, and produced films including the 2005 Bewitched reboot and boxing drama Cinderella Man.
Michelle Bega, a spokeswoman for the Marshall family, said: "Our family is heartbroken over the passing of Penny Marshall.
"We hope her life continues to inspire others to spend time with family, work hard and make all of their dreams come true."
Laverne & Shirley co-star, Cindy Williams, described her death as an "extraordinary loss."
She said: "Utterly unique, a truly great talent.
"And, oh what fun we had! Can't describe how I'll miss her."
Her ex-husband Rob Reiner said: "I loved Penny. I grew up with her.
"She was born with a great gift. She was born with a funnybone and the instinct of how to use it.
"I was very lucky to have lived with her and her funnybone. I will miss her."