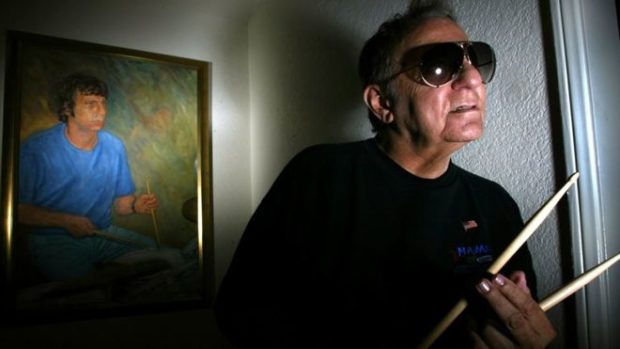 While few people might have recognised Hal Blaine by name, they certainly would have noticed his signature drumbeats.
A key member of backing musician collective The Wrecking Crew, the drummer lent his musical talents to countless pop hits in the 1960s and 1970s.
Founded in Hollywood at the tail end of the 1950s, the collective was hired by a string of chart toppers to lend its skills to their recordings.
Many of these went on to be global smash hits, and Mr Blaine's drumming can be heard on tracks including the Mamas and the Papas' California Dreamin', The Beach Boys' Good Vibrations and These Boots Are Made For Walking by Nancy Sinatra.
The Wrecking Crew was also hired by the likes of Sonny and Cher, Frank Sinatra and The Crystals.
During his time with the group, Mr Blaine played on 40 No 1 hits, while 110 more entered the top ten and eight were crowned record of the year at the Grammys.
Mr Blaine was born in Massachusetts in 1929 and was drumming by the age of eight.
As a teenager, he moved with his family to California where he began performing jazz and big band music – doing so professionally from around the age of 20.
His passion for rock and roll led him to find other like-minded musicians and they came together to form The Wrecking Crew in the late 1950s.
Mr Blaine coined the nickname as a reference to the music industry's older generation – who he nicknamed the "blue blazer guys" – as they saw him and his peers as disruptive and destructive to the sector.
As electronic instruments and computers became more commonplace in the recording studio, Mr Blaine began to wind down his drumming in the 1980s.
It is estimated that, by the end of his career, Mr Blaine had played on around 6,000 singles – and thousands more album and unreleased tracks.
He died of natural causes on Monday aged 90, with famous faces from across the music industry paying tribute.
The Beach Boys' Brian Wilson used The Wrecking Crew for many of his group's songs in the 1960s.
He said: "I'm so sad, I don't know what to say.
"Hal Blaine was such a great musician and friend that I can't put it into words.
"Hal taught me a lot, and he had so much to do with our success – he was the greatest drummer ever.
"We also laughed an awful lot."
Fellow session drummer Kenny Aronoff said: "Hal played drums on more number one hit pop songs and hit records than any drummer ever has.
"He created beats and parts that served those songs, artists and bands that helped those songs become recognisable hits.
"Hal was funny, loving and a very kind man."