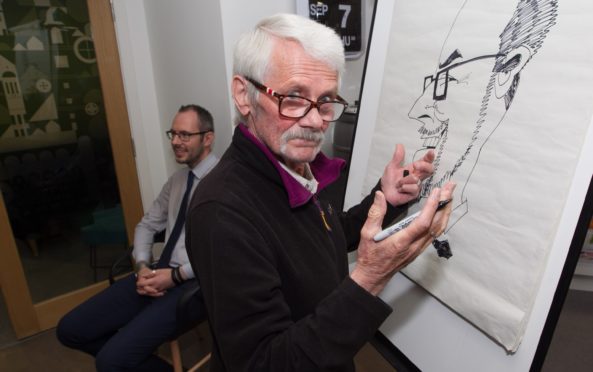 A legendary cartoonist who coined the nickname 'The Big Yin' for comedian Billy Connolly has died at the age of 76.
Malky McCormick was born in Glasgow in 1943.
Having worked in commercial art as a young man, McCormick left the industry to illustrate comics and magazines for DC Thomson in Dundee before joining Scottish Television as a graphic artist and designer.
In 1975, along with friend and fellow banjo player Billy Connolly, he devised and wrote the cartoon strip, The Big Yin, for the Sunday Mail.
Its success led his career to really take off, and he went on to contribute to The Sun, Daily Record, Daily Express, Sunday Times, Sunday Telegraph and New Statesman.
A lifelong Kilmarnock FC fan, he is arguably best known for his depictions of Scottish football personalities.
His interpretations of every Scotland manager since the 1970s stand in the entrance foyer of the Scottish football museum at Hampden in Glasgow.
Other key works – favourites of the artist himself – included a Rolling Stones drawing that the band autographed in 1966, a cartoon for the Celtic Opus book and a sketch of the Kilmarnock Scottish Cup-winning team of 1997.
He was a key player in organising the National Cartoon Festival in Ayr, which began in 1998, and became a regular speaker on the after-dinner circuit.
For 10 years he was resident cartoonist on the ITV quiz show Win, Lose or Draw.
In his later years, McCormick battled vascular dementia, using his art to keep his spirits up, which included giving a weekly art class at Kilmarnock's dementia resource centre.
He died on Monday.