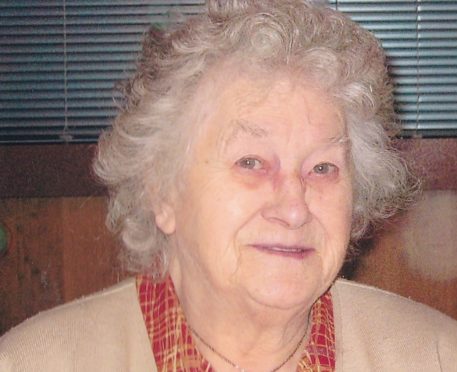 An "unsung heroine" – who spent a lifetime of volunteering in Fraserburgh – has died aged 89.
Betty McDonald served her community for more than 50 years – and even co-organised a massive pageant to mark the town's 400th anniversary in 1992.
Thousands of people lined the streets to take in the celebrations, which also earned a visit from the Queen and Prince Philip.
Having organised a mini-pageant on the day of the royal visit, Mrs McDonald was invited to meet – and lunch – with Her Majesty.
Her five children – Karen, Graeme, Jacqueline, Tracey and Lesley – said their mother preferred to let others take the limelight and work behind the scenes.
The mother-of-five's efforts did not go unnoticed though.
Mrs McDonald was chosen as Banff and Buchan's "unsung heroine" at an International Women's Day event at Edinburgh Castle in 2003, in light of her community service.
It all began at the age of 14, when – as her children describe it – their mother found her "other family": the Girl Guides.
She went on to become captain of the 5th Fraserburgh Girl Guides and later served as area commissioner for Buchan.
Around that time, she was also presented with her long service certificate from Fraserburgh South Parish Church for 56 years of unbroken attendance as a choir member.
Mrs McDonald and her late husband David established the Fraserburgh Youth Choir and competed at Aberdeen Music Festival for 20 years with much success.
Her passion for music developed during the war, and she went on to become an accomplished pianist.
The husband and wife team also founded the female vocal group Musicale, presenting two highly popular charity concerts each year raising significant funds for local charities.
Mrs McDonald also co-founded the Fraserburgh Junior Arts Society (FJAS) in 1951 in the hope of encouraging youth participation in the arts.
It is still going to this day, and represented the town in 2000 as more than 200 communities from across the UK showcased their homes with song and dance at the Millennium Dome.
Mrs McDonald co-produced their show, bringing down the curtain on a life of community service in spectacular fashion.
Mrs McDonald died on May 2 with her family by her side. A thanksgiving service will be held at Fraserburgh South Parish Church next month.