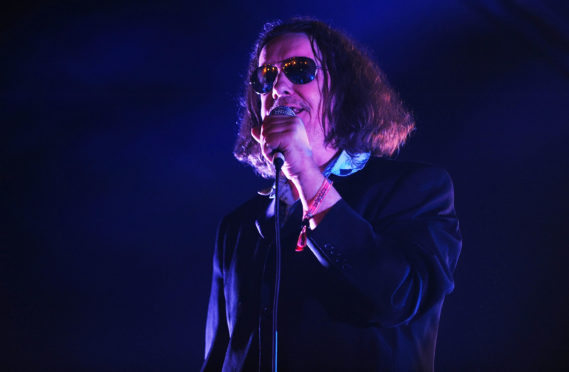 One half of the founding duo behind the band The Alabama 3, Jake Black, has died just days after performing in concert.
The Glaswegian, who also performed under the name The Very Reverend D Wayne Love, started the country-acid house band with Rob Spragg and the pair released their first album in 1997.
The Alabama 3 are best known for their track Woke Up This Morning, which was used for the opening titles of the HBO drama The Sopranos.
Our thoughts go out to the family of @TheAlabama3 founder Jake Black AKA The Very Reverend D.Wayne Love who sadly passed away yesterday. They played our main stage last Friday and absolutely smashed it! RIP pic.twitter.com/U90WT4UrMf

— Highest Point (@HighestPoint_) May 22, 2019
Over more than 20 years, the band has released 12 studio albums, a compilation and a raft of singles.
While they have yet to experience any true chart success, their music has been critically acclaimed and the nine-strong line-up have regularly drawn large crowds for live performances.
Most recently, The Alabama 3 took to the stage at Highest Point festival in Lancaster on Friday, alongside acts including Sister Sledge and The Zutons.
It is understood that Black was taken ill shortly after the show and died in hospital on Tuesday.
A cause of death is not yet known.
Black's band broke the news about his death via Facebook on Tuesday evening, writing that they were "heartbroken" by what had happened.
They wrote: "Early this afternoon, on a beautiful summer's day, our friend, comrade and spiritual teacher, Jake Black AKA The Very Reverend D Wayne Love, passed over to the higher ground.
"After a magnificent performance at the Highest Point festival in Lancashire, D Wayne in his supreme wisdom, decided it was the appropriate moment for his ascension into the next level."
Some top photos of @annacalvi from her @HighestPoint_ headline slot on the @BBCIntroLancs stage at the weekend ?

?: Richard James photography pic.twitter.com/L8l1igxCQm

— Skiddle (@skiddle) May 21, 2019
The band said they will continue to perform, as per Black's "precise instructions" and added: "His last words, which we have yet to decipher, were: 'Tweet tweet, possil fleet'."
A spokesman for the Highest Point festival said: "Our thoughts go out to the family of The Alabama 3 founder Jake Black who sadly passed away yesterday.
"They played our main stage last Friday and absolutely smashed it."