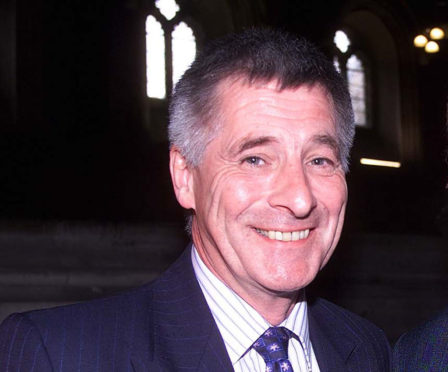 Rod Richards was the first elected leader of the Welsh Conservatives – a milestone in a life which included stints in the Royal Marines and reading the news for the BBC.
He became involved in politics in the late 1980s, with his "combative" approach leading to the nickname Rod the Rottweiler.
It took him three attempts to gain a seat in the House of Commons. After losing elections in 1987 and 1989, he took the Clwyd North West seat in 1992.
Soon after he was named a junior Welsh Office minister and helped to advise and shape policy regarding healthcare and the NHS.
This was short-lived, however, as he was forced to resign from the post when a newspaper published allegations about his private life.
The following year he lost his seat – as all Welsh Conservative MPs did – during Tony Blair's Labour landslide.
Mr Richards then turned his attention to the Welsh Assembly, winning a regional list seat in 1999.
In the process he was elected leader of the Welsh Conservatives.
This position also, however, did not last a long time, and he stood down three months later after being charged for assault.
The politician sat as an independent until 2002, when he resigned branding the parliament a "parlour for pussy cats".
His last political endeavour was in 2013 when he joined Ukip with a view to running in the European Parliament.
Born in Llanelli in 1947, Mr Richards graduated from Swansea University with a first-class honours degree in economics and statistics.
He joined the Royal Marines and later worked for the Ministry of Defence.
In the 1980s he became a household name for many when he worked as a Welsh language newsreader for the BBC and S4C.
Mr Richards had cancer for several years and his family confirmed he died on Saturday aged 72.
In a statement, they said: "We are very sad to announce that Rod passed away peacefully at the Marie Curie hospice in Penarth after a long battle with cancer. He was surrounded by his family.
"Rod's friends and family will remember his quick wit, kindness and love. Dad dedicated much of his life to the service of a country he loved and felt passionate about.
"Rod's surviving three children and eight grandchildren will greatly miss their wonderful father and dadcu."
Welsh Secretary Alun Cairns wrote on Twitter: "Very sad to learn of the passing of Rod Richards – a man with a great passion for politics.
"I had enormous respect for the political ability he demonstrated."
While David Jones, who replaced Mr Richards in the Welsh Assembly in 2002, said:" Very sorry to learn of the death of my predecessor, Rod Richards, who had been suffering from cancer for some time."