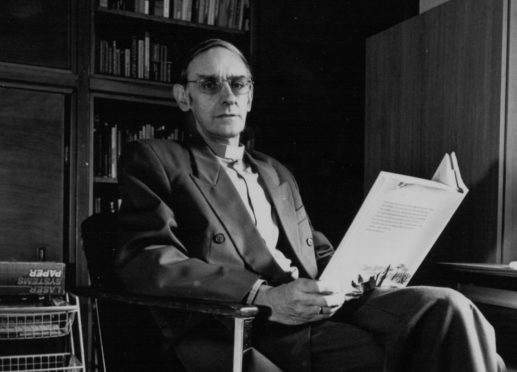 Respected Caithness minister Ronald Johnstone has died aged 73.
Reverend Johnstone, known to many as Ronnie, was a Glaswegian who spent half his life serving in the Church of Scotland ministry, mainly in Caithness.
Born on November 11, 1945, and raised in a Christian home, Rev Johnstone's religious background and strong will for change in his place of worship would eventually bring him to serve in the ministry, but not until after taking on roles in the Civil Service and National Assistance Board.
It wasn't until after meeting his wife Freda in 1970 that Rev Johnstone would delve into the world of ministry, after she persuaded him to leave behind his job to embark on his studies to becoming a minister and spreading gospel, an area of life she said his heart always belonged.
He served his probationary assistantship at New Erskine Church, before leaving for Pollockshaws Parish Church in 1977. In 1984, Rev Johnstone and his family moved north to Thurso West Church in 1984.
He was the first to retire from the church after a 27-year ministry.
Alan Sparling, the Session Clerk of the Thurso West congregation, paid tribute to Rev Johnstone earlier this month at his funeral.
He said: "Ronnie Johnstone was the complete professional, who showed great care and attention in every aspect of his ministry.
"He came in like a whirlwind, had a coffee and a blether, and left in a breeze, but you felt so much better stronger in your faith for his visit.
"Patient, supportive and encouraging, he was a wise counsellor who was a generous and thoughtful pastor to all."
Rev Johnstone was well-liked in his local community where he undertook numerous roles away from his presbytery, serving as a member of the Caithness Redesign NHS Group from its inception, campaigning vigorously for the retention of the Dunbar Hospital, where he was an incredibly popular chaplain to patients and staff.
During his retirement, Rev Johnstone enjoyed putting his able piano skills to the test, often playing the organ at Dunbeath Church on Sunday mornings. He was also a dab hand at washing dishes after coffee mornings.
Rev Johnstone and his wife Freda were very much an inseparable team and their contribution to church congregations across the country will never be forgotten.
Rev Johnstone was laid to rest at West Church on September 6 and he is survived by his wife Freda, daughters Pauline and Rachael, sons-in-law Christopher and Giorgio, grandsons Kieran and Lorenzo and his brother Neil.