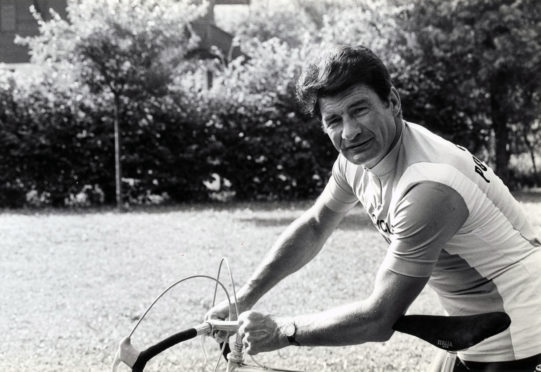 One of France's most beloved sporting personalities, known for his enduring spirit and bravery as he narrowly failed to win the country's national cycling race time and again, has died aged 83.
Raymond Poulidor finished on the Tour de France podium eight times between 1962 and 1976, but never wore the yellow jersey.
Despite this, "Pou-Pou" was highly regarded by many who were enamoured with his never-ending sporting spirit and took delight in his winning personality.
Nicknamed The Eternal Second, he was very aware of his reputation for always finishing a runner-up – most often to sworn rival Jacques Anquetil.
At one point, he joked: "The more unlucky I was, the more the public liked me."
His constant underdog status also led to the birth of a popular turn of phrase.
In one interview, he acknowledged: "There is a Poulidor of everything, as soon as anyone comes second in anything."
Un immense champion et tellement plus que cela. Le Tour ne sera plus le même sans lui.
Nous ne t'oublierons jamais, Poupou ! ?

He was a great champion but so much more than that. The Tour will not be the same without him.
We will never forget you, Raymond! ? pic.twitter.com/L3w97IFUSa

— Tour de France™ (@LeTour) November 13, 2019
Poulidor was nonetheless one of the finest cyclists of his generation and enjoyed huge success during his 17-year professional career.
He took 189 race wins, secured 11 Grand Tour stages, won the 1964 Tour of Spain, and, representing France, took home one silver and three bronze medals in World Championship road races.
Poulidor's career began at 16 years old, when he was handed a copy of a sports magazine by a teacher. And, by 1960, he had turned professional.
He published a best-selling autobiography in 1968 and, after retiring in 1977, went to work for yellow jersey sponsor Credit Lyonnais as an ambassador.
He made regular appearances at cycling events, most recently in the 2019 Tour this summer, and always received a warm welcome.
A popular anecdote among his fans is that, in 1987, he paid a visit to Anquetil while he was on his deathbed.
Anquetil joked that, once again, his rival – and friend –  was about to finish second to him once more.
Poulidor married his wife Gisele Bardet in 1961, and she survives him with their daughters Isabelle and Corinne.
The sporting hero's legacy lives on as his two grandsons, David and Mathieu Van der Poel, are both professional cyclists.
French president Emmanuel Macron was one of the first to pay tribute to Poulidor.
He Tweeted: "Raymond Poulidor is gone. His exploits, his panache, his courage will remain engraved in the memories.
"Pou-Pou, forever yellow jersey in the hearts of the French."
A spokesman for the Tour de France said: "He was a great champion but so much more than that.
"The Tour will not be the same without him."