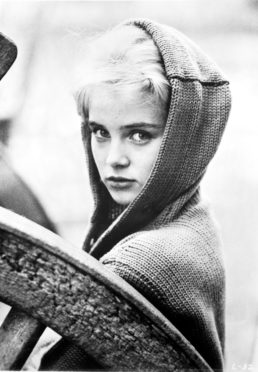 When she took the title role in a controversial 1960s film, Sue Lyons became a "Hollywood it girl" while she was just a teenager.
The actress, then 14, had been picked from hundreds of hopefuls to star as the eponymous Lolita in the 1962 film adaption of the book about a middle aged man who becomes obsessed with a 12-year-old girl.
The American actress has now died at her home in Los Angeles, at the age of 73.
Stanley Kubrick directed the adaptation of  Vladimir Nabokov's novel and it was reported that he picked Miss Lyon from 800 girls who had auditioned.
Her role in the film earned her a Golden Globe for "most promising newcomer" in 1963.
She featured in numerous other films over the years including 1967 detective movie, Tony Rome, which starred Frank Sinatra.
Ms Lyon made her last film in 1980 in horror production Alligator, where she played a news reporter.
The actress was born Suellyn Lyon on July 10, 1946, in Iowa and was the youngest of five children.
After her father passed away when she was just a baby, her mother moved the family to Dallas and they relocated to Los Angeles three years later.
She is survived by her daughter, Nona, from  her marriage to Roland Harrison.
The marriage was brief and the actress was also married to Hampton Fancher, Cotton Adamson, Edward Weathers and Richard Rudman.
Mr Adamson was in prison for second-degree murder and robbery at the time of their marriage in 1973.
The controversial circumstances surrounding their relationship made the news.
After their wedding at Colorado State Penitentiary, the pair divorced a year later as Ms Lyon struggled to find acting work because of her marriage to him.
Fans of the late actress posted tributes on social media when news of her death broke.
Channing Thomson wrote: "Actress Sue Lyon, who lit up the film industry in Stanley Kubrick's Lolita, based on the Vladimir Nabokov novel, has passed away at the age of 73.
"That role was nothing less than iconic and she was briefly a genuine Hollywood 'it' girl in 1962."
Another fan, Samantha Ellis, added: "Hearing the news that Sue Lyon passed is a pin through the heart.
"I've seen all of her movies I could get my hands on and tried to write to her multiple times to tell her how I adored her, but she was tough to locate and didn't seem to want any attention. Rest In peace, lovely."