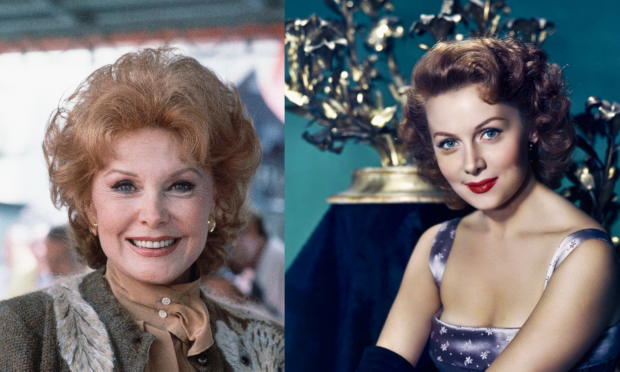 Rhonda Fleming was known as the 'Queen of Technicolour' and starred in an array of hit movies throughout the 1940s and 50s.
She worked for some of the biggest directors, including Sir Alfred Hitchcock, and starred in major productions including the 1948 musical fantasy A Connecticut Yankee in King Arthur's Court, alongside Bing Crosby, the 1957 western Gunfight at the O.K. Corral and the noir Slightly Scarlet alongside John Payne.
There were also starring roles in blockbusters including Hong Kong and The Last Outpost.
Fleming, who has died aged 97, was born Marilyn Louis in Hollywood in August, 1923.
She was discovered by the famous agent Henry Wilson while on the way to Beverly Hills High.
Wilson changed her name to Rhonda Fleming and she was then signed to a contract with movie producer David O. Selznick.
Her first major part was as a nymphomaniac in Spellbound, and she recalled being so naïve she had to look up the word in the dictionary when casted.
Fleming also featured on the stage, making her Broadway debut in Clare Boothe Luce's The Women, and touring as Madame Dubonnet in The Boyfriend.
In 1957, Fleming made her stage musical debut in Las Vegas at the opening of the Tropicana Hotel's showroom.
Later she appeared at the Hollywood Bowl in a one-woman concert with compositions from Cole Porter and Irving Berlin.
In 1960, she was awarded a star on the Hollywood Walk of Fame.
Fleming also routinely guest-starred on television in series including Wagon Train, Police Woman and The Love Boat.
Along with Maureen O'Hara, she was given the nickname 'Queen of Technicolor' for how well her red hair and green eyes photographed in vivid colour.
Later in life, she became a philanthropist and supporter of numerous organisations fighting cancer, homelessness and child abuse.
In 1991, Fleming and her late husband Ted Mann, of Mann's Theatres, established the Rhonda Fleming Mann Clinic for Comprehensive Care for Women with Cancer at UCLA in memory of her sister Beverly, and in 1992 founded the Rhonda Fleming Mann Resource Centre at UCLA.