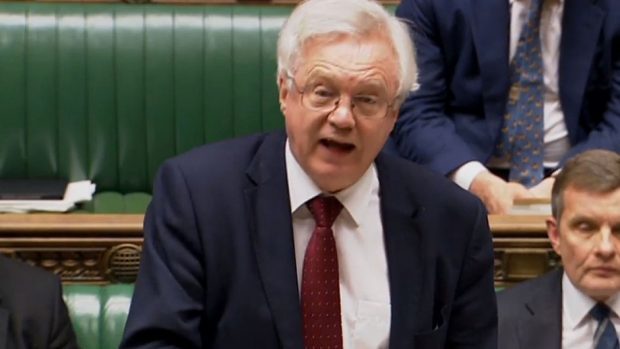 The SNP has accused the UK Government of failing to provide a "guarantee" in its Brexit strategy that repatriated powers in areas already devolved will fall under Holyrood's remit.
Stephen Gethins, his party's Europe spokesman, also said the much-called-for white paper underlined the "bourach" or "Brexit mess" at the heart of Theresa May's administration.
And he accused ministers of trying to avoid parliamentary scrutiny.
Labour's shadow Brexit Secretary Sir Keir Starmer similarly rubbished the 77-page document, calling it a "wish list, not an action plan".
The current devolution settlements were created in the context of the UK's EU membership, so the administrations only have authority to make law in devolved policy areas as long as it is compatible with EU law.
When the UK leaves, rules previously set through common legal and regulatory frameworks agreed in Brussels will be decided in the UK.
In a section entitled "strengthening the Union", the government document commits to not removing any decisions presently taken by the devolved legislatures.
"We will use the opportunity of bringing decision-making back to the UK to ensure that more decisions are devolved," it adds.
But it continues: "As the powers to make these rules are repatriated to the UK from the EU, we have an opportunity to determine the level best placed to make new laws and policies on these issues, ensuring power sits closer to the people of the UK than ever before."
Scottish Brexit Minister Mike Russell said this did not amount to a commitment – "unlike in the EU referendum campaign" – that powers held by the EU would be transferred to Holyrood.
He added: "Instead there appears to be a growing appetite for centralising currently devolved matters like agriculture at Westminster."
In addition to the lack of a "guarantee", Mr Gethins said: "The white paper offers no clarity on the status of EU nationals, no clarity on seeking agreement with the Joint Ministerial Committee and nothing on the 'bad deal or no deal' reset clause."
But Brexit Secretary David Davis hailed the strategy, which he stressed confirmed Mrs May's vision of "an independent and truly global UK".
He added: "We have engaged the devolved administrations in this process. While no part of the UK can have a veto, we are determined to deliver an outcome that works for the whole of our country."
The paper confirms the UK will leave the single market and seek a free trade agreement to ensure the "most frictionless trade possible" in goods and services with the EU.
It also states free movement of people will no longer apply, that Britain will leave the jurisdiction of the European Court of Justice and pledges to maintain a soft border between Northern Ireland and the Republic of Ireland.