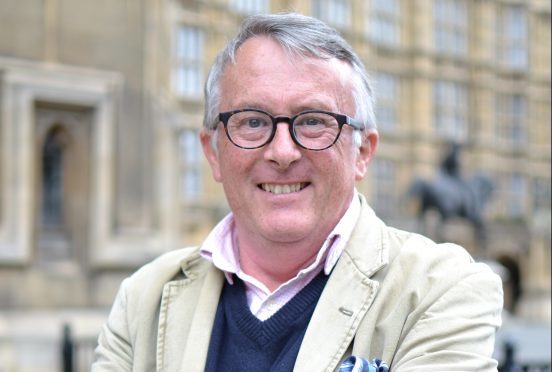 When a 20-something-year-old Jamie Stone told his father of his aspiration to be an MP one day, the remark was met with a "very quizzical raised eyebrow".
The new Liberal Democrat representative for Caithness, Sutherland and Easter Ross also recalls how his "old man" Reggie "roared with laughter and nearly choked on his pipe".
"He obviously thought it was the folly and ambition of youth," added the 63-year-old who four decades later has finally achieved that goal.
His political career began much earlier, however, in fact inadvertently at the hands of his dad, himself a councillor, whose sudden death from lung cancer aged 70 in 1986 prompted a by-election for his Tain seat on the Ross and Cromarty District Council.
Until that point, Mr Stone had done a variety of jobs after graduating from St Andrews where he was a contemporary of Alex Salmond.
These included gutting fish, working on a building site and teaching English as a foreign language in Sicily, before moving into the oil and gas sector longer-term.
But the unexpected change in circumstances meant he had to go back home to Tain to take over the family business – now run by his brother Rory – which makes cheese, including Caboc and Strathdon Blue.
He told the Press and Journal: "I also stood for my father's seat – out of emotional reasons, for all the wrong reasons probably, and won.
"He was an incredibly nice man, he was really quite eccentric. He had half his teeth missing and he looked like a pirate. His hair was rather long."
Mr Stone, who is married to Flora and has three grown-up children, later went on to become Charles Kennedy's constituency chairman, and the former Lib Dem leader persuaded him to stand for the Scottish Parliament in 1999.
He won the Caithness, Sutherland and Easter Ross seat and held it for three terms before standing down in 2011.
That should have been that, but he says he was "horrified" to watch the constituency fall to the SNP and then the equivalent Westminster seat followed suit in 2015.
So he decided to "reinvent" himself and stand for Highland Council in 2012.
He won and remains a councillor having been returned again in May, but will be stepping down from the role.
Following an unsuccessful bid at re-election to Holyrood last year, he ousted the SNP's Paul Monaghan earlier this month and has been appointed the party's Scotland spokesman.
"I think my dad would be proud, he would be thrilled. I'm the only member of the Stone family to ever have been in parliament," he said.
As well as the theatre of politics, Mr Stone is interested in pantomime and played Dame Tilly Trott in the Tain Pantomime Group's production of Jack and the Beanstalk last year.
He hopes to make a cameo appearance this December, but added: "I'll have to negotiate that with the whips."