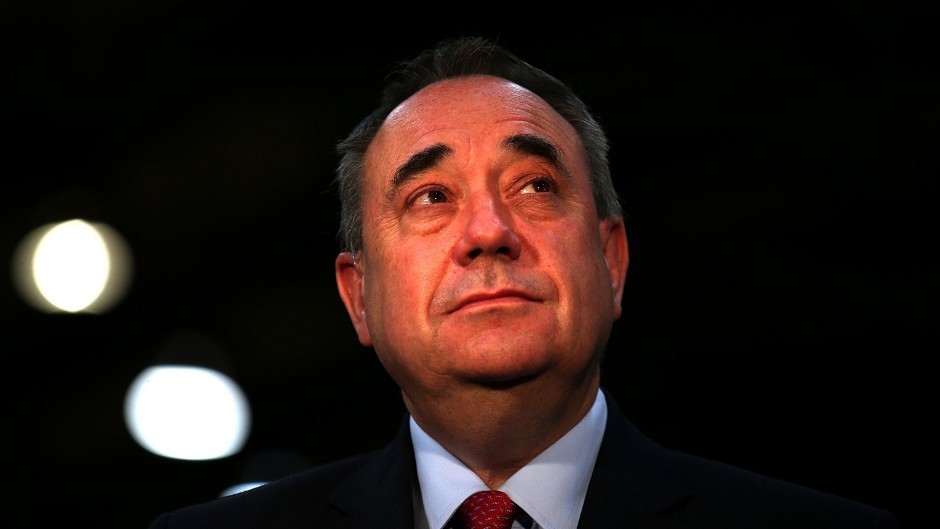 Alex Salmond talks with his hands which is perhaps not surprising for a politician of 30 years.
Old habits die hard and his fingers drum on the mottled surface of the large antique desk in his Ellon office.
He will of course soon be departing the polished set of rooms for the final time, and the painful process of removing portraits has already begun.
Mr Salmond is passionate about art, or rather he's passionate about the designs which appeared on his Christmas cards over the years, and he describes each piece with conviction.
Such conviction could clearly not be found by voters when he lost his Gordon seat following success in nine elections across what appeared to be an unstoppable career.
Some might say he felt the full force of Conservative gains in the north east after he was defeated by Colin Clark, but if he was devastated by the result, he's certainly not going to admit it.
Instead, Mr Salmond has bigger fish to fry and although he will never truly depart the brutal world of politics, he's set to make his debut at The Edinburgh Fringe with his very own show – Alex Salmond unleashed.
Already 80% sold out, he gives every impression that he's determined to look forward and, in many respects, his life hasn't really changed.
He admits to averaging two hours of sleep a night, although his wakefulness is down to a cracked rib as opposed to First Minister problems.
"I cracked my rib scoring a penalty at Kintore Gala whilst campaigning, of course I got straight back up but I didn't realise I'd done it till later that night," he said with a rueful grin.
Football injuries aside, it has been an extremely difficult few weeks for him, following the death of his father, who passed away aged 95 just three days before Britain went to the polls.
A passionate SNP supporter for more than half a century, it would seem his loss has put everything in perspective for Mr Salmond who appears slightly softer at the edges.
"Dad died on the Monday just before we went to the polls but he would have been tickled pink that he managed to get his postal vote in.
"He would have been laughing about it, no doubt thinking he was voting from beyond the grave.
"He would have turned 96 in about three weeks time which would probably have made him furious as a cricketer to be bowled out in the mid 90s!
"My mother died very suddenly in 2003, she was actually up a mountain at the time and keeled over from natural causes.
"In her eyes, that would have been a glorious death because she died doing what she loved, but we were obviously devastated as a family.
"Not spending enough time with my mother is one of my biggest regrets, the last time I saw her I was dashing out the house on the campaign trail.
"I had something to eat then left, I look back now and think what on earth was I doing going out canvassing.
"I was determined that the same thing wouldn't happen again with Dad and I spent as much time with him as I possibly could.
"He put posters up where he stayed in Erskine which was a home for ex servicemen, but because of where his room was, only the bin man could see them!
"I actually had to go and take pictures of them for him and said I would put it on social media."
Mr Salmond is clearly a family man at heart, but surely losing his seat must have hurt a little?
He chose his words carefully, but appeared quite philosophical about the whole thing.
"Of course I was disappointed, but losing dad brough everything into sharp focus as to what truly matters.
"I feel more for people who have given up their jobs and given everything to their seat, only to lose it after two years through no fault of their own.
"You only receive £2,000, I've had a pretty good run but the entire election was never going to be a success for [Theresa] May.
"I bet she lies awake every night wishing she hadn't called that election, what was she thinking?
"She's now calling on those very same saboteurs to help her out, the whole thing was a completely irrational idea that she dreamed up whilst walking Snowdonia or something.
"It was suicidal.
"The SNP lost seats because of the timing, when Nicola [Sturgeon] first announced a second independence referendum she did so in the faith that an election certainly wouldn't be held this year.
"It's hugely easy to explain the necessity of independence, which is only going to steadily grow stronger in the wake of Brexit.
"Scotland needs an insurance policy, but sometimes people can't see what's right in front of their nose, a lot of people are going to be bumping their noses in the months to come.
"I still think the future for independence looks rosy and the time for Independence will come."
Whether it's bluster or optimism, it is difficult to doubt Mr Salmond, but what about his own future in the SNP?
He famously stepped down as first minister after losing the referendum, so what is his next move?
He replied: "I'll never go into House of Lords, I can say that for sure.
"There's no chance because it goes against the very grain of democracy.
"Ian Duncan has been urging me to join him just this week, but I think that's a deflection tactic.
"From a failed MP to a Lord for him, the whole thing seems medieval and abusive.
"I haven't ruled out returning to politics, but I'll never be a Lord."
Outside of the Edinburgh Fringe which Alex says was completely unexpected, how will he spend his time as a man of at least some leisure?
Will he potter around his Aberdeenshire home in Strichen, an area he holds in great affection and has no intention of leaving.
It is difficult to picture him getting under his wife Moira's feet, and the couple have always remained tight lipped about their marriage.
Whilst he delights in an audience, she has always shunned the limelight which came with her husband's career and supported him privately, rather than in public.
He added: "I can tell you one thing, I won't be going on I'm a Celebrity Get Me Out of Here"
I'd already been asked once when an email landed the very next day after losing my seat.
"It was ever so polite, the team said they were sorry I had lost my seat but would I reconsider going on the show for quite a hefty fee.
"Moira was happy I wasn't going to the jungle until she saw how much money they were offering!
I could probably eat burnt testicle or whatever it is they serve up, but you wouldn't catch me getting covered in scorpions.
"I hate creepy crawlies.
"The fact that the opportunity is at least there is quite nice in a way, because I couldn't have gone on as first minister.
"You're very limited in what you can do, I'm not complaining about that aspect of the job but there are certainly more projects in my sights now I'm no longer elected.
"I can never see myself slowing down because it's not in my nature and my mum and dad didn't bring me up like that.
"I'm looking forward to a good game of golf at Castle Links though.
"You won't catch me taking a walk , in my opinion a walk without a golf club in your hand is a spoilt walk.
"I'll be watching more of The Open on Tv, I love Netflix but I haven't been able to get it working since Christmas.
"There are some great shows on Netflix and I love House of Cards.
"Of course I'm trying to lose weight as well, I'd like to lose a good couple of stone and look a bit thinner at least in time for the fringe.
"I'm back on the 5:2 diet which I went on during the referendum because I wanted to look my best."
Mr Salmond was previously an oil economist and believes oil will make a recovery in Aberdeen.
He said: "It is foolish and stupid to think oil will not return, maybe not on the same scale as before but in 50 years time it will certainly be significant
"I've always been a big supporter of diversification, this is the fourth oil recession I've witnessed and we need to make sure we have another string to our energy bow.
"As my dad says, you've got to play the ball as it lies."
Mr Salmond has plenty of work in the pipeline, but what of his staff and loyal followers – particularly the younger generation who have played a major role in helping the SNP remain in power?
He added: "All my staff will be redundant by August 8 and that's obviously very hard, but I have no doubt they will all go on to do great things.
"If the north east is brilliant for one thing, it's community and community initiatives.
"I am very proud of everything the Mary Salmond Trust has achieved after I set it up 10 years ago in memory of mum.
"There are four trustees who don't receive a penny and they are all brilliant and I think the trust demonstrates what can be done with modest sums.
"I'll always speak up for The Girl Guides because my mum was in the Girl Guides for something like 50 years.
"Every single day of life there are people who work for their community and it has been a privilege to witness that.
"Take Strichen Lake Committee, it's now a stunning spot but 15 years ago, it was a swamp.
"I've witnessed amazing voluntary effort for 30 years, so I can't complain."