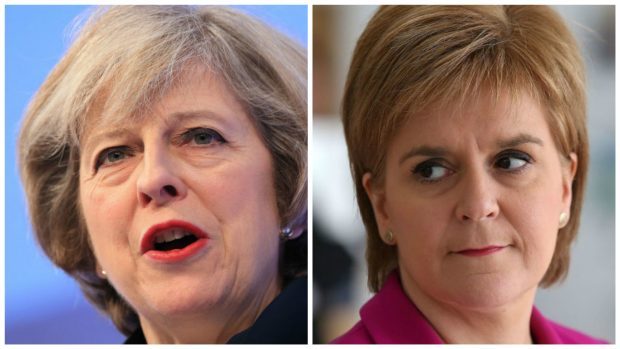 Nicola Sturgeon has claimed Brexit is "threatening the underpinning principle" of devolution and called for a new cross-party consensus to boost Holyrood's powers.
In a speech, marking the 20th anniversary of the 1997 referendum, Ms Sturgeon said she wanted to build consensus to safeguard the devolution settlement and to extend the Parliament's current powers.
She argued disagreement about "the final destination" of devolution had not stopped parties working together to make progress for Scotland 20 years ago and should not do so now.
And she won qualified support from Labour, Greens and Liberal Democrats for her call.
Ms Sturgeon said: "The devolution settlement – the Scotland Act that established our Parliament – is based on the principle that everything is automatically devolved unless it is reserved.
"The Withdrawal Bill turns that principle on its head. As it stands, it will mean that devolved policy areas such as agriculture, fishing and the environment, which are currently carried out at EU level, will be automatically reserved, unless the UK government decides to devolve.
"So, on the very day that we should be celebrating devolution, we are being called upon to defend it."
Scottish Labour interim leader Alex Rowley backed the First Minister's call to resist a "Westminster power grab" and extend devolved powers, but called on her to use Holyrood's tax-raising powers to tackle inequality.
He said: "Labour is the party of devolution, and we will not allow the Tories to use Brexit as a Westminster power grab.
"We will stand up against Theresa May's plan to centralise power in the hands of Tory ministers. That is why Labour MPs from across Britain will tonight be voting against the repeal bill."
Green MSP Patrick Harvie also lent support to the First Minister over devolution, but said she must bring "renewed determination" to use powers.
He said: "The anniversary coincides with a critical moment as the UK prepares to fundamentally undermine the devolution settlement via a power grab Repeal Bill and it remains unclear what the consequences will be if Westminster kills off the principle of legislative consent and unilaterally introduces huge new constraints on the Scottish Parliament."
Scottish Liberal Democrat leader Willie Rennie said his party was "incredibly proud" of its campaigning work for devolution but would not "drive a wedge" between Scotland and England.
However, Scottish Conservative MP for Banff and Buchan David Duguid said Ms Sturgeon's speech was all about "blatant scaremongering" and "manufacturing grievance" and claimed he and his north-east MP colleagues were working behind the scenes to help provide Holyrood with a "powers bonanza".
He said: "UK ministers have repeated time and again that the role of Holyrood will not be diminished as we leave the EU. In fact, the opposite will be the case."