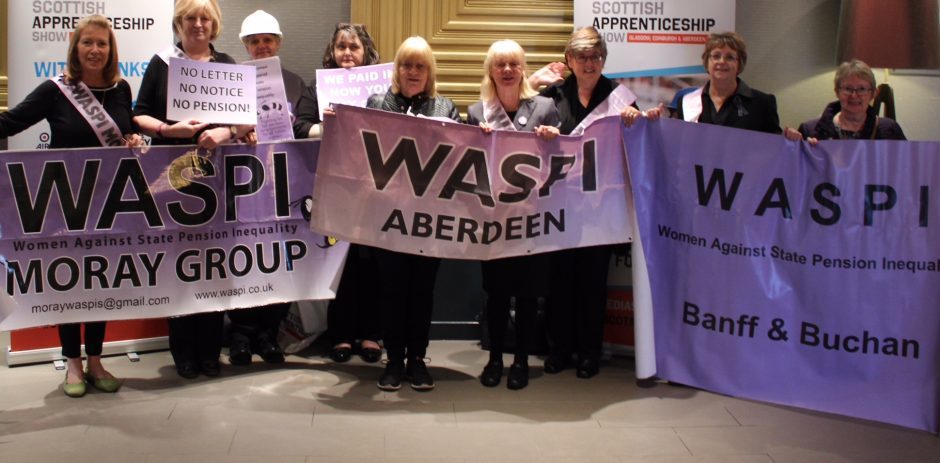 North-east women, fighting against controversial pension changes, attended an apprentice show yesterday in a "tongue in cheek" effort to show up a Westminster MP.
The Women Against State Pension Inequality (Waspi) group argues that increasing the state pension age to 65 for women by November 2018, and 66 by 2020, is unfair on those born in the 1950s.
The campaigners fear that changes to regulations will cost thousands of people up to £40,000 in payments to which they feel entitled.
Responding to the backlash this summer, Conservative MP Guy Opperman suggested the women affected could take up apprenticeships as a route to re-employment.
The parliamentary under-secretary of state for pensions and financial inclusion provoked fury when he said "extended apprenticeship opportunities" would get older people into work.
And yesterday, 10 women from the Aberdeen, Banff and Buchan and Moray Waspi groups put that theory to the test when they toured stands at the Scottish Apprentice Show.
The ladies spoke to representatives from the retail and construction trades, the Royal Navy and the Army during the convention at Aberdeen's Doubletree Hotel.
Moray protestor, Sheila Forbes, said: "The idea was a bit tongue in cheek, but Mr Opperman suggested we go out and look for apprenticeships, so that is what we did.
"We asked people generally whether they would take on older apprentices, and found we would not even fit within their upper age limit in many cases.
"We want our pensions so that we don't need to carry on working, these jobs should be going to younger people."
Last night, a government spokesman stressed the benefits of the forthcoming changes.
He said: "The decision to equalise the state pension age between men and women was made more than 20 years ago, and achieves a long-overdue move towards gender equality.
"There are no plans to change the transitional arrangements already in place."