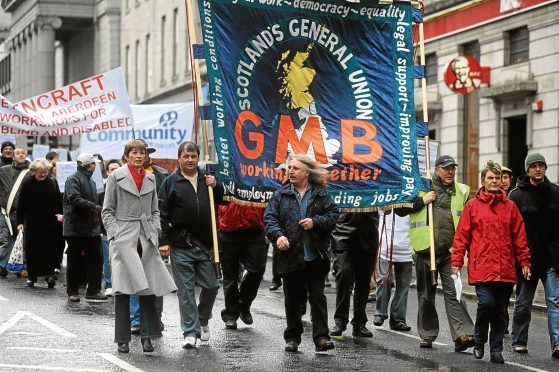 Aberdeen City Council launched more unplanned raids on its "rainy day fund" than any other authority in Scotland last year, it has emerged.
Public spending watchdog the Accounts Commission found that 14 councils used a combined £61million more from reserves than they intended in 2016/17.
At almost 3% of its total income, Aberdeen city spent the highest proportion of the group, which also included Aberdeenshire and Highland councils.
And the commission also warned that Moray Council could "run out" of reserves within three years at current spending rates.
The findings are outlined in a "shocking" new report, published today, in which the auditors warned that councils across the country were finding financial pressures "increasingly difficult to manage".
The use of reserves by the city council, which is the lowest funded in Scotland, emerged almost a decade after the same authority was left on the brink of bankruptcy, with a safety net of just a few hundred thousand pound.
At the time, the crisis prompted a raft of cuts, protests in the streets, the departure of the council's chief executive and a humiliating public hearing by the Accounts Commission.
The watchdog said in today's report that unplanned use of reserves can be the result of "poor budget-setting and/or budgetary control" and that it was "critical that councils understand the risks".
However, the study also showed that 18 councils had lower total reserves as a proportion of income than Aberdeen, including neighbours Aberdeenshire, which had the fourth lowest in Scotland.
And in assessing this year's budgets, Moray Council was one of three local authorities which "would run out of general fund reserves within two to three years if they continued to use them at the level planned for 2017/18".
Fourteen councils had lower overall reserves than Moray, however, and the authority used significantly less than planned last year.
Highland Council, meanwhile, had the second highest debt levels in Scotland as a proportion of income, with its total debt previously reported to be more than £1billion.
Scottish Labour's Jackie Baillie said it was a "shocking report" that laid bare the "impact of Tory and SNP austerity on our local authorities".
Cosla, the local authority umbrella body, said that it was "only tough choices and prudent financial management" that had enabled councils to continue delivering services to commiunities.
Aberdeenshire Council said it planned to manage its reserves as part of its medium term financial strategy, and did not use them to support its core revenue budget.
Aberdeen City Council did not respond to a request for comment.
A Scottish Government spokesman said: "We have treated local government very fairly despite the cuts to the Scottish budget from the UK Government.
"Including the extra £250million to support the integration of health and social care the overall reduction in local government funding in 2016-17 equated to less than 1% of local government's total estimated expenditure."