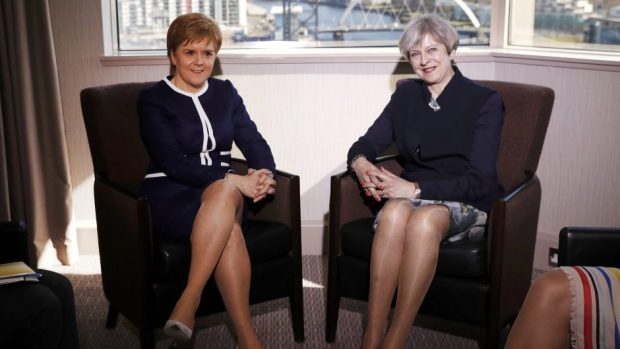 First Minister Nicola Sturgeon has said Scotland should be given the option of a softer Brexit if Northern Ireland gets a differential deal.
Her call came after an outline agreement for Northern Ireland, which effectively allowed continued membership of the single market and customs union, was taken off the table at the 11th hour.
As Prime Minister Theresa May went in for lunch with European Commission President Jean-Claude Juncker, a leaked document suggested a deal was about to be struck.
Approaching noon, the wording of the draft agreement appeared to have been softened slightly, from "no regulatory divergence" to "continued regulatory alignment" with the EU.
But the lunch, which was expected to finish at 2.30pm, ran on more than an hour later than expected, during which time Mrs May is understood to have spoken to DUP leader Arlene Foster, who made it clear she would not support the planned deal.
As Mrs Foster's MPs give Mrs May her parliamentary majority the deal has been called off, but both Mrs May and the Irish Taoiseach Leo Varadkar said a deal could still be struck this week.
Ms Sturgeon welcomed the news a special Brexit arrangement seemed likely for Northern Ireland and called for Scotland's wish for a soft Brexit to be respected too – and added a soft Brexit for the whole of the UK would be the simplest solution.
She said: "While I welcome the proposed commitment for Ireland and Northern Ireland – and while the particular circumstances in Scotland are distinct and separate from those in Ireland – today's developments show very clearly that if one part of UK can retain
regulatory alignment with the EU and effectively stay in the single market, there is no good practical reason why others cannot do the same.
"Indeed, any special status for Northern Ireland would make a similar solution for Scotland even more vital.
"For Scotland to find itself outside the single market, while Northern Ireland effectively stays in would place us at a double disadvantage when it comes to jobs and investment."
But Aberdeen South MP Ross Thomson, Conservative, dismissed reports as "speculation" and said Ms Sturgeon would not miss an "opportunity to shoehorn independence back on to the agenda".
He said: "For the SNP, this isn't about Northern Ireland or Ireland's best interests – this is about Nicola getting her second independence referendum.
"You cannot equate Northern Ireland and Scotland. Northern Ireland shares a land border with the EU for a start. Northern Ireland and Ireland have their own history and, vitally, the peace process needs to be preserved.
"Let's see the first minister's comments for what they are, an attempt SNP to get independence back on to the table. Scotland had its say in 2014 about its relationship with the rest of the UK, and we chose to reject independence and stay part of the United Kingdom. We
said no and we meant it."