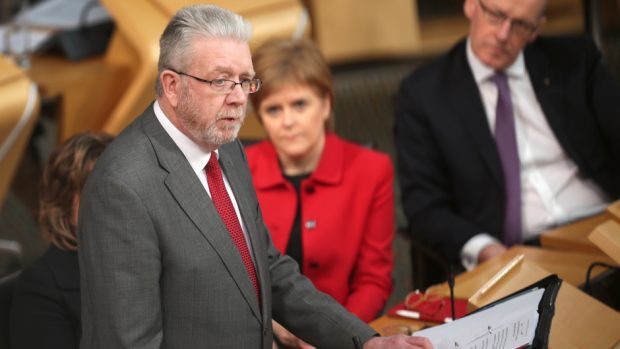 Brexit Minister Mike Russell yesterday claimed that Scotland would be placed at a "competitive disadvantage" if Northern Ireland was the only country to benefit from special arrangements for leaving the EU.
Mr Russell said "urgent clarity" was needed on the deal proposed for Northern Ireland, particularly on issues relating to key areas such as agriculture and state aid.
Speaking ahead of a meeting of the joint ministerial council (JMC) today (TUE), Mr Russell called on First Secretary of State Damian Green to set out what the agreement would mean for Scotland.
He said: "The agreement reached last week would in effect allow Northern Ireland to enjoy its own arrangements, yet the UK Government ruled out a special deal for Scotland when we raised it a year ago.
"As the First Minister has made clear, any special arrangements for Northern Ireland must also be available to the other UK nations – otherwise we risk being placed at a competitive disadvantage when it comes to jobs and investment."
Meanwhile, at Westminster last night SNP leader Ian Blackford called on the prime minister to confirm that there would be no return to a hard border between Northern Ireland and the Irish Republic.
He added: "The SNP will continue to speak with one loud and clear voice – the Prime Minister must commit today to keeping the UK in the single market and customs union as to do otherwise would be catastrophic for jobs, for workers' rights, for people's incomes and living standards."
Theresa May replied: "He asks me to confirm in this House that there will be no hard border between Northern Ireland and Ireland.
"I have to say to him, it's not the first time I've made this statement in this House – he can google it and find from Hansard how many times I've said it.
"Indeed, if he had listened to my statement and looked at it, I said the joint report reaffirms our guarantee that there will be no hard border between Northern Ireland and Ireland."
Mrs May reiterated the UK would be leaving the single market and customs union and stressed that Northern Ireland had a land border with a country remaining inside the EU.