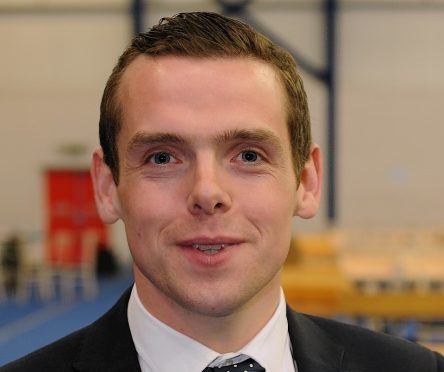 "Rip-off" delivery charges will be debated at Westminster next week as pressure grows on the UK Government to take action.
Some retailers have slapped on outrageous extra charges for delivery, such as £50 for a £5.99 set of towels to be delivered to Speyside.
Moray MSP Richard Lochhead, SNP, set up the Fair Delivery Charges campaign last year from Holyrood and has persuaded Business Minister Margot James to set up a UK Government review.
Now Moray MP Douglas Ross, Conservative, has taken the fight to Westminster, raising the issue at Prime Minister's Questions last week and arranging for a debate to be held on Wednesday.
"It's a really positive step forward," he said. "This is the first time in this session MPs will have the chance to join me in raising their concerns about the fact that too many people are being ripped off by companies who ramp up delivery charges based purely on postcodes and with no understanding of geography.
"We can send a strong, united, cross-party message to the companies that treat areas such as Moray with contempt.
"It is fantastic to have secured this debate which I hope will secure results for all the people who have suffered this injustice for too long."
Mr Ross appealed for those who had fallen victim to ludicrous surcharges to contact him so he could highlight their stories in the chamber.
He said: "I have been contacted by many people on this issue already and I'm keen to hear from more who have been ripped off purely because of where they live ahead of the debate.
"It will be an opportunity to raise examples of people who have been charged exorbitant amounts for parcel deliveries and will also be an opportunity to highlight what the UK Government can do to help.
"I am determined to see this scandalous practice brought to an end, and next week's debate is another important element in this campaign."
Mr Ross has also met Ms James, who pledged to review a recently completed Ofcom investigation alongside a consumer group.
She said: "OfCom has completed a two-year study of the issue and I will work with the Consumer Protection Partnership to establish a review of the evidence collected so far to see what can be done to protect Scottish consumers from excessive charging."