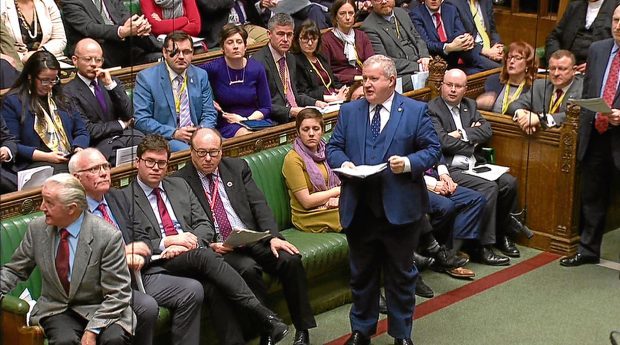 A call for RBS chief executive Ross McEwan to be summoned to No 10 and ordered to rethink bank closures has been made at Prime Minister's Questions.
SNP Westminster leader Ian Blackford made the demand following a partial victory as the bank U-turned on 10 of 62 planned bank closures in Scotland, following pressure from the Press and Journal's Save Our banks campaign.
Stay of execution for 10 RBS branches as Save Our Banks campaign gains strength
Ross, Skye and Lochaber MP Mr Blackford told Prime Minister Theresa May now was the time to call the taxpayer-owned bank boss to heel and reconsider closure plans for the remaining 52 branches.
He said: "On three occasions, I have asked the Prime Minister at Prime Minister's Questions to call Ross McEwan into No. 10 Downing Street.
"Will she accept her responsibilities, given that we own RBS?
"Now that we have saved 10 branches, will she call in Ross McEwan and join us in calling for all the branches to remain open?"
But Mrs May stuck to her line the government would not intervene in "a commercial decision", instead attacking the SNP-led Scottish Government for "leaving Scotland behind" in the controversial blame-game between the parties over broadband coverage.
"Obviously I welcome the Royal Bank of Scotland's decision, which is a commercial decision for the bank," she said.
"If Mr Blackford is so keen on ensuring people, including perhaps those in remote communities, have access to the services that they need, he should ask himself why the Scottish Government have been such a failure in ensuring that people in remote communities have broadband access to online banking.
"The Scottish Government need to get their act together because, quite simply, Scotland under the Nats is getting left behind."
Mr Blackford slammed the response as "pathetic" and added "the Prime Minister has not lifted a finger — we saved the banks".
Meanwhile, the Scottish Affairs Committee chaired by Perth MP Pete Wishart, SNP, has summoned Mr McEwan to appear in front of MPs to give evidence on the rationale for pursuing the closure programme.
Mr Wishart said: "We welcome the announcement from RBS about 10 branches as the first steps to addressing the concerns raised by the committee.
"However, given there is a still an active closure programme being pursued by RBS, we remain to be convinced the threat of serious consequences for remote or deprived communities has been removed.
"We will now be calling Ross McEwan to give evidence to clarify the contents of their announcements and press him on the future of the other branches in the RBS network.
"The Committee will also call the Treasury Minister responsible for representing the public interest in RBS, given the UK Government is the majority shareholder."