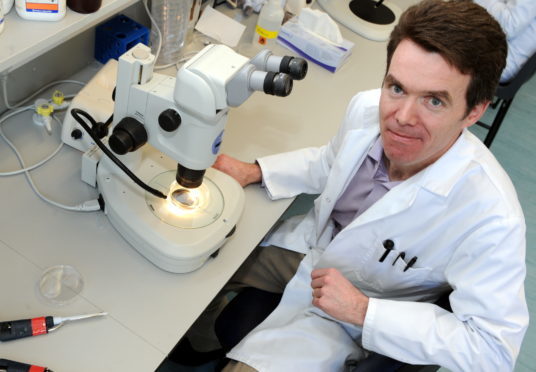 An Aberdeen University scientist has hailed the publication of research into Primodos showing a link between the drug and birth defects as the first step towards justice for campaigners.
About 1.5 million women in the UK took Primodos as a pregnancy test in the 1960s and 70s before the drug was withdrawn from the market. The same drug was used in other European countries to induce abortion.
Campaigners have alleged a cover-up by German manufacturer Schering, now Bayer, but a Westminster report released before Christmas and supported by Prime Minister Theresa May rejected a causal link between Primodos and birth defects.
However, Neil Vargesson, senior lecturer at the university's Institute of Medical Sciences, said his team had now published research showing fresh evidence of a link.
The paper published today in the Scientific Reports journal shows deformations to zebra fish embryos just hours after they received a dose of Primodos components.
Mr Vargesson said: "This is a great stepping stone. It doesn't give definitive answers, but it's a start, so we can finally put to rest whether or not Primodos caused birth defects.
"The first step was to show the drug has caused problems in fish and hopefully that will lead to some funding for tests on mammals and other tissues to show exactly what is going on.
"This research helps the campaigners because they can see there has been some up-to-date science being done with modern techniques."
Mr Vargesson, who has also published extensive research on links between thalidomide and birth defects, added that he hoped the PM would now reconsider the findings of the Westminster report, carried out by the Commission On Human Medicines but dismissed as a "whitewash" by campaigners.
He said: "I would like to think she will take this on board and consider there might be an alternative decision to the one they made."
The new research shows how zebra fish embryos that came into contact with Primodos components rapidly slowed in their movements, showed heart changes within four hours and tissue damage to the fins, eyes and spinal cords within 24 hours.
The drug also accumulated in the embryo tissue, indicating even a low dose for the mother could lead to high levels within the embryo.
Mr Vargesson concluded there were also potential implications for the safety of current hormone treatments containing Primodos components.