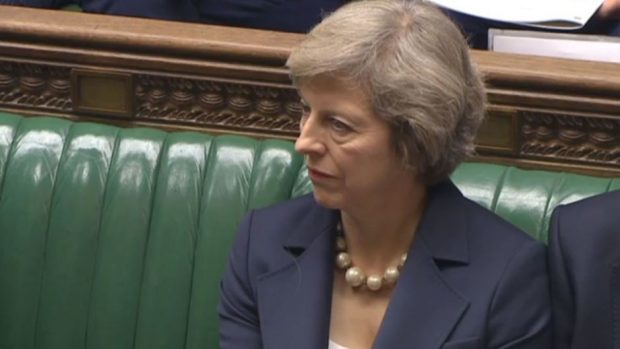 Prime Minister Theresa May has dismissed the Scottish and Welsh government Continuity Bills as "unnecessary".
The devolved nations remain deadlocked with the UK Government over clause 11 of the Brexit Withdrawal Bill, which could trigger a constitiutional crisis if it is not resolved.
Conservative negotiators want to retain an effective veto over about 25 powers – including farming, fishing and the environment – by bringing control over them back from Brussels to Westminster instead of the devolved administrations.
Both of the latter announced this week they will bring forward Continuity Bills to copy EU laws into their legal systems after Brexit, which are intended as a back-up if current devolution talks fail.
At Prime Minister's Questions, SNP Westminster leader Ian Blackford asked Mrs May whether she stood by her 2012 statement of wanting to see "a future in which Scotland, Wales, Northern Ireland and England continue to flourish side-by-side as equal partners" and said it was "no surprise" Scottish and Welsh governments were bringing forward Continuity Bills to stop "a power grab".
Mrs May replied she believed the clause 11 talks had taken "a significant step forward" last week when negotiators said more than 80 of 111 powers would go to Edinburgh and Cardiff instead of London.
But she stressed she did not believe the bills were necessary and appealed to devolved politicians to focus on reaching agreement in the current negotiations.
She said: "Of course, I continue to stand by wanting to ensure that all parts of the UK continue to flourish. I think the best way of doing that is ensuring all parts of the UK remain in the UK.
"We have also given an absolute commitment to amending clause 11, and that commitment remains unchanged.
"The proposals being put forward are unnecessary, and it would be rather more helpful if he [Mr Blackford] concentrated on reaching an agreement in relation to the withdrawal agreement.
"We want to ensure more powers are devolved to the devolved administrations, and that is what we are going to deliver."