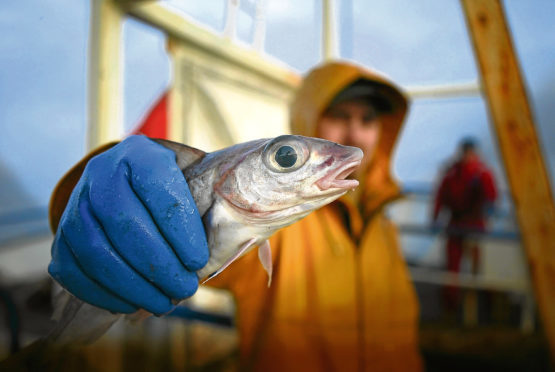 A fishing campaign group has urged the UK Government to make it clear how the industry will be affected by Brexit.
Scottish Conservative leader Ruth Davidson and UK Rural Affairs Minister Michael Gove have joined forces calling for Britain to leave the EU Common Fisheries Policy (CFP) in March next year.
Their calls came after the EU published its latest draft Brexit negotiation stance of maintaining current access to UK waters once the UK leaves.
However, the position of the UK Government, which has insisted on a two year transition period between 2019 and 2021 to avoid a "cliff edge" Brexit, remains unclear.
Campaigners Fishing for Leave (FFL) welcomed politicians' calls to leave the CFP but voiced concerns over conditions the sector would face over the transition period.
FFL spokesman Aaron Brown said: "During a transition the EU can enforce any detrimental legislation to cull the UK fleet, which makes the pledge to safeguard British fishermen and a bright future academic and hollow.
"There have been well-publicised representations to the government and MPs that being trapped in a transition will see a large proportion of the UK fleet culled under forthcoming inept EU policy that is already agreed. This would allow the EU to use international law to claim the "surplus" resources the UK would no longer have the fleet capacity to catch.
"Why does the government stop playing semantics and clearly state in unequivocal terms not that we 'leave the CFP' but that there will be no continuation of it in any way shape or form post 2019?
"Until that assurance is forthcoming everything else is a PR exercise playing on words that folk are getting sick of with regards to Brexit."
Banffshire and Buchan Coast MSP Stewart Stevenson, SNP, said the UK Government must deliver on its pledges to allow the industry to claw back control.
He said: "The UK Government must keep the promises they made to the fishing industry to take back control of British waters after Brexit.
"We now know from early EU draft guidelines published last week that they want to retain their rights to our waters for longer.
"Westminster must make good on its promise that Brexit will deliver for Britain's fishing communities. None of our catching rights can be traded away without consent from Scottish fishermen."