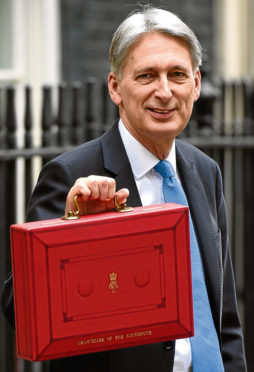 Chancellor Philip Hammond yesterday hinted that austerity measures could soon be eased after official economic forecasts showed improved growth rates for the UK.
The Office for Budgetary Responsibility (OBR) has upgraded its projections for GDP growth by a tenth of a percentage point to 1.5% for 2018.
And in the spring statement yesterday, the chancellor said the improving picture could reduce the squeeze on public spending in the autumn Budget.
He said: "If, in the autumn, the public finances continue to reflect the improvements that today's report hints at… I would have capacity to enable further increases in public spending and investment in the years ahead, while continuing to drive value for money to ensure that not a single penny of precious taxpayers' money is wasted."
The predicted growth rate for the UK is double the 0.7% figure forecast by the Scottish Fiscal Commission for Scotland.
Scottish Conservative shadow finance secretary Murdo Fraser said: "The SNP has no-one to blame for that predicament but itself.
"This is what happens when an SNP government has an anti-business agenda, and is more worried about hiking people's tax than generating jobs and growth."
But Scottish Finance Secretary Derek Mackay, SNP, said: "The chancellor had an opportunity to invest in public services and reverse these trends, but chose not to take it, which means that the Scottish Government will continue to see real terms cuts to its discretionary budget over the next two years."
The OBR has calculated that Britain will continue to pay contributions into the EU budget until 2064 – 45 years after the official date of Brexit – with the total "withdrawal bill" amounting to £37.1 billion.
And the Organisation for Economic Co-operation and Development (OECD) released figures suggesting that the UK will be bottom of the G20 growth table in both 2018 and 2019, lagging significantly behind the eurozone, partly as a result of uncertainty caused by Brexit.
Debt is forecast to be 1% lower than expected at the time of last autumn's Budget, peaking at 85.6% of GDP in 2017/18 before falling gradually to 77.9% in 2022/23.
Although there were no tax and spend announcements in the 26-minute statement yesterday, Mr Hammond took the opportunity to announce a number of consultations which will feed into his Budget in the autumn.
These include studies on the tax framework on digital companies, the future of 1p and 2p coins and the impact of VAT on small businesses.