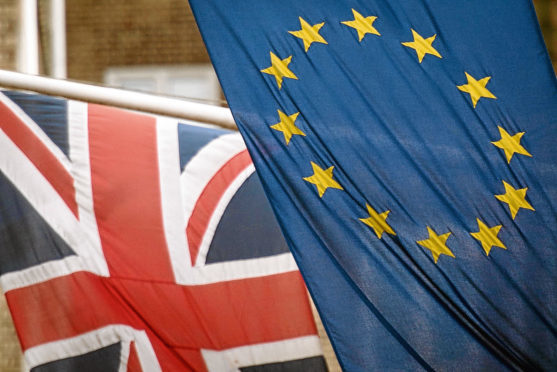 With one year until Brexit, groups across Scotland have been lobbying hard to get their voices heard – particularly on five crucial issues: fishing, farming, the devolution settlement, EU citizens rights and the impact on jobs.
And as the final countdown begins, Conservatives, SNP, Labour and the Liberal Democrats have given the Press and Journal their scores for how much progress the UK negotiators have really made with Brussels.
Shadow Secretary of State for Scotland Lesley Laird said she could only give an overall 10/25 for negotiations so far, with fisheries and jobs being particular low points.
Calling for an end to the fishing industry being used as a political football, she said: "The Scottish Tories made big promises to voters on fisheries and unfortunately the chickens have come home to roost leaving the Tories with egg on their faces. Everyone now realises this will be about a negotiation of trade in the round."
On farming, Ms Laird attacked the fact farmers had been "left in limbo" on what funding would replace EU subsidies as well as "unrealistic targets on net migration" – both of which will be "devastating for many farmers".
Flagging up the fact the Scottish Secretary has missed every deadline in bringing forward amendments to protect the devolution settlement, she said: "From the party that claims to want to protect the union, they're doing a very poor job of it so far".
Ms Laird said EU citizens would "probably put more trust in the Easter Bunny than they would in Theresa May" after having their rights "treated as a bargaining chip".
Ending her report card with a 1/5 for jobs, Ms Laird called for them to be put back at the heart of the negotiations.
She said: "The Tories are playing a dangerous game and will not be forgiven in Aberdeen if they fail to mitigate the predicted economic impact on the city."
Liberal Democrat Brexit spokesman Tom Brake gave a savage rating of 6/25 for negotiations so far, including a zero for respecting the devolution settlement, where he said: "No obvious progress has been made and there are few signs this is a priority for the government".
On fishing , farming and jobs he said: "The fisheries industry risks being left on the sidelines as the horse-trading gets serious about access for the financial services sector.
"The big risks are that the rush to trade deals also sees farmers competing against countries with low animal welfare standards, with Brexit leading to high tariffs for exports to Europe that could cripple the industry.
"The government's own projections have shown there is no version of Brexit that is good for the economy and we know Aberdeen's job market is likely to be among the worst hit by higher trade costs."
One brighter point was EU citizen's rights, where Mr Brake said the UK Government had "already conceded some ground", adding "it's an area in which the government could obviously soften its stance in coming negotiations".
Scottish Conservative Andrew Bowie, MP for West Aberdeenshire and Kincardine, unsurprisingly gave his party a very high score of 22/25.
He gave top marks for fishing, EU citizens' rights and jobs, pledging the final deal would see the UK as an independent coastal state with a free trade deal with the EU to create new jobs.
"I welcome the transition deal for businesses, jobs, trade and EU citizens' rights," he said. "There is obvious disappointment with fishing – but the final deal will make the UK an independent coastal state with control over our own waters. We'll make sure of that.
"We've made good progress in negotiations with the EU and I'm delighted we are now able to reassure EU citizens, who are so important to Scotland, about their rights. The SNP's scaremongering on the issue before we reached a deal with the EU last year was simply shameful.
"I'm confident we'll get that free trade deal with the EU that will help Scottish businesses continue to thrive, grow and create new jobs. The biggest threat to the economy comes from an SNP government that has made Scotland the most highly taxed part of the UK, and refuses to take independence off the table."
On farming and devolution, Mr Bowie pointed the finger of blame at the Scottish Government, who he said had shown the UK Government nothing of their plans on a farming transition period and whose attitude was preventing a deal on devolution.
"It's a pity the SNP Government have so far sought to pick a fight rather than agree common-sense measures to protect the economy," he said.