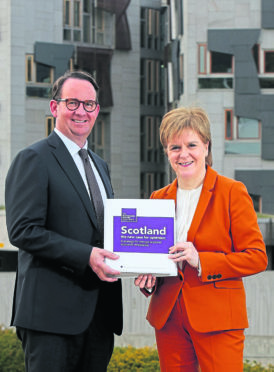 All future North Sea revenues should be set aside in a wealth fund, according to a new report setting out the economic case for Scottish independence.
The SNP's growth commission report said a new "Fund for Future Generations" should support the public sector.
It would also aim to exploit "inter-generational opportunities" in infrastructure, innovation and the development of future renewable energy schemes.
And the document suggests the fund could be managed through a Scottish Investment Bank, run by Scottish Enterprise.
The UK Treasury has received around £328 billion in revenue from North Sea production over the last 40 years.
But to avoid a repeat of claims that the economic case for independence would be built on the "volatile" natural resource, future tax from oil and gas has been removed from the commission's economic models.
Instead, the report states that oil revenues should be treated as a windfall bonus and that successive UK governments have "failed" to take that approach, representing "poor fiscal and economic management".
The commission said: "If tax revenues from oil and gas do recover, using such revenues for current spending – as the UK Government has done for the last four decades – cannot be judged a prudent or judicious use of a windfall from the depletion of a scarce natural resource."
The proposed fund would be different from the wealth fund established in Norway, worth around £750 billion, which is largely used to invest overseas.
The document said "the situation in Scotland is different and, therefore, the Fund for Future Generations should have a different role".
The SNP said the value of the fund would depend on oil price.
The price of Brent crude is hovering around $77 a barrel, down from around $110 around the time of the last independence campaign in 2014.
UK oil and gas revenues have plummeted since the price crash, however the Office for Budget Responsibility said this month that it expects revenues to average around £1 billion for each of the next five years.
The document said recent dips in revenues should also be attributed to tax relief measures from the UK Government.
According to the report, an independent Scotland should be able to "reap the long-term benefits" of oil revenues for years.
It argues that recent investment in the North Sea, coupled with rising oil prices, means the country could reap the benefits of oil revenues "if they are stewarded sensibly".
Like revenues, oil and gas exports are also to be treated as a "bonus", however adding oil and gas could increase Scotland's export value by £90 billion.